Influenced by Dre & Trent Reznor, but not their music
Posted by Zechmann in Compilations, Electronic, Jazz
Nov 30th, 2016
Beats Music, previously MOG, now Apple Music, played a huge role in getting us switched from posting singles to primarily playlists. Trent Reznor, head of creative at the time, created a video in 2014 introducing Beats Music and its promise to find the best song to come next.
I'm still not sure if Beats ever fulfilled that promise, or if Apple does now, but I've been trying to do it for myself ever since. And hopefully sometimes for you too.
If you're into jazzy, hip hop beats more uplifting than our Late Night Beats & Late Night Jazz, this is for you. All the way through.
Anderson .Paak & Kaytranada on New Years
Posted by Zechmann in Electronic
Nov 22nd, 2016
Pomo will be playing with Kaytranada, Anderson .Paak + The Free Nationals on New Years in San Francisco. We've featured the last two artists, but only dipped into Pomo a few times – did not realize whom he's produced.
People were telling me he did an Anderson .Paak track, but I didn't realize which one. Then come to find he produced the only Mac Miller song I'll ever like, which of course has Anderson .Paak featured on it.
He's also got plenty of good remixes to bring in the New Year. Hope to see you there.
How to Cope with Madness
Posted by Zechmann in Electronic, Soul
Nov 16th, 2016

It's been a mess this last week. When the bombshell of an election result dropped, I landed on one of Robots Can't Dance's songs and rolled through the rest of his music. It helped.
Here are 10 of his best (my favorites). Let it get you through any madness you're going through.
Don't say it fast, three times
Posted by Zechmann in Compilations, Soul
Nov 4th, 2016

So the title. I was listening to some standup on SoundCloud talking about how sexism sounds too close to "sex is mmm," and how confusing that can be. May not sound that funny, I know, but like a singer that can make cheesy lyrics sound good, so can a comic. Unfortunately I can't find the bit again. If you have any idea of what I'm talking about, let me know.
And that's how I come up with these important, but clearly not that thought out titles. Musicians learn from my failues, the package [artist – title, album art] is everything when it comes to introducing your song.
Part three of the best MC's
Posted by Zechmann in Hip-Hop
Oct 26th, 2016

Last year three MCs got me loving rap again. A-1 (Adam Raps) was first, and shortly after Anderson .Paak and Goldlink. I've highlighted the first two before, but Goldlink is doing as well now as he did back then, so I thought I'd highlight him now.
Fall in Love is my favorite of his and it's only been out for a month. Rarely does a song live up to its hype when three great musicians get together on it, but Kaytranada & BadBadNotGood work well together with Goldlink's style.
I've got to see him live
Posted by Zechmann in Indie & Pop, Soul
Oct 19th, 2016
Tom Misch will be playing his first show in San Francisco, November 11 at the Rickshaw Stop. I sure as hell will be there, even though I have no ticket and it's sold out. Help me.
I love Misch so much for his guitar playing, producing, singing and podcast Are We Live, co-hosted with Jordan Rakei, Barney Artist and Alfa Mist. I've listened to every damn episode.
In one of the episodes, Misch talks about how he's more known now for his singing than anything else. He's a good singer, but how he plays guitar and puts a song together is far more amazing to me. I do understand why people attach him to his voice though.
Our voice is the most human sound in music. It's got greater dexterity than any instrument and we connect to it more than any other sound. It's often what completes a song to me. The beat has a much harder time resonating deep without it.
And when you've got a good one, people will be drawn to it. Even if your guitarin' is just as good (better).
The rain couldn't hold down most the performers and crowd
Posted by Zechmann in Live
Oct 15th, 2016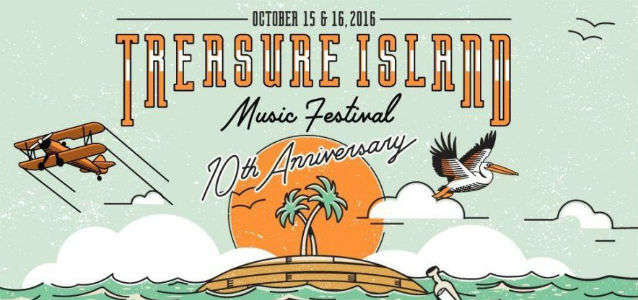 The 10th and final Treasure Island Music Festival was a rainy one. I've been to festivals with some showers before, but the rain got many crammed in tents for hours a day, if they could find one, and a few sets were cancelled. People were pissed.
By the second day I saw a long list of people's complaints on Treasure Island's Facebook & Twitter. They were selling their tickets for $20 and a hug or bitching about how unprepared the festival was for the storm. The Tunnel stage could barely handle the rain and the grounds should've been more accommodating to the conditions. Even the fans knew the rain was coming a week before.
The festival was still something to remember. People concentrate too much on the music and the creature comforts, but forget why we're really there. To experience something together. If the music gets delayed, all the better to find people to share some stories with.
Let me know if you'll be at Treasure Island this year. Close it out with us :)
with a nothing but NoMBe playlist
Posted by Zechmann in Music Education
Oct 4th, 2016

Last month I gave a quick tip to musicians pitching blogs. To treat it as much of an art as they did their music. But most need some help and it can be a bitch to find someone who knows how.
Two years ago I found out about Jake Udell and his TH3RD BRAIN artist management at SF MusicTech. What intrigued me was that he managed Zhu. I'm as impressed with Zhu's rollout of NightDay as the actual music. Since then the team has signed Gallant and most recently NoMBe with their new Accelerator program. When you see a management group develop multiple artists so well that it makes their name as reputable as their artists, you want to send people their way.
TH3RD BRAIN's Accelerator program opens the doors for musicians and their management to learn from experts of the emerging music industry. Treating the program like a traditional accelerator found in startups might sound like a gimmick at first, but their approach sounds promising, which you can take a glipse at.
I do think they should expose a lot more of what they do there. Opening the doors to TH3RD BRAIN's knowledge and expertise to everyone could help out a lot of musicians. Because, trust me, they need it. More importantly for TH3RD BRAIN, it will attract the artists they want next. As much as they've channelled some of the best so far, it never guarantees what's next.
— In other words, Jake needs to bring back his podcast —
The one thing to bring to a festival
Posted by Zechmann in Electronic, Live
Sep 25th, 2016

For the second year in a row at Symbiosis I wasn't prepared.
With camping equipment, the right clothing and food. All the things you should prepare for when your off the grid for a few days. But one thing makes those problems a lot easier to deal with, friends. It's easy to survive in the city alone, but not out there.
There's no better place for short bursts of conversation with people than places like Symbiosis. Even the occasional longer, deeper ones and more rare one's that last past the moment. But there's one thing that can make finding these connections easier than ever, friends. The more friends you have in your own camp, the more connections you have going around Symbiosis.
It's hard to get friends there, but it's much harder to survive & prosper without them.
+ a playlist with my favorite RAC
Posted by Zechmann in Live
Sep 20th, 2016
I was a big fan of Lenny Kravitz back in middle school. And what I mean is I listened to Fly Away on repeat while playing Beetle Adventure Racing on the N64, and I played that shit often. That's a fan when you're 13.
When I saw him on the lineup for Kaaboo, I was pretty set on going, but Jimmy Buffett sold me… My Uncle is one of the biggest Parrotheads on the planet, or at least Minnesota, so I had to see what Jimmy was all about.
Lenny Kravitz and Jimmy Buffett weren't the only two the lineup had to offer. Kaaboo 2016's long list of talent stretches from Hall & Oates and Macy Gray to Aerosmith and Ludacris, none of which played together.
The comedy was right up there too, but there was one thing missing for me. The electronic acts. My almost perfect lineup was about 20 miles South of Kaaboo, one year ago in San Diego at CRSSD fest, and this electronic lineup looked nothing like it.
There was one producer I wanted to see. Even though he produces a lot of pop vocals that aren't for me, with over three hundred tracks on SoundCloud, RAC had a handful that I liked, especially that Zee Avi remix. Beautiful voice.