"Floatin' over the city, like a Goodyear pimp."
Posted by Zechmann in Hip-Hop
Nov 30th, 2009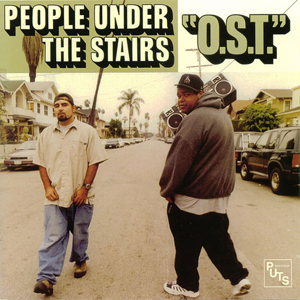 People Under the Stairs may not be the biggest hip-hop duo, but they are well known throughout the underground scene. Not only do they catch the beat right with their rhymes, but their instrumentals are something fresh & innovative. I decided to go with The Breakdown as the first feature of theirs because it's the song that's stuck with me the most. It may not have the lyrics that Acid Raindrops has, or the soothing beat of San Fransisco Knights, but the rhymes posses a finesse trademark of P.U.T.S.
[audio:TheBreakdown.mp3|titles=The Breakdown]
Download Song!
Artist Information:
Genre: Hip-Hop
Location: Los Angeles, California
Members:
Thes One (Christopher Cesar Portugal): MC, Producer
Double K (Michael Turner Jr.): MC
Additional Albums: The Next Step | Question in the Form of an Answer | Stepfather | Carried Away | […]
Similar Artists: Hieroglyphics | The Pharcyde | Zion I | Living Legends
Links: MySpace | Wikipedia | YouTube | Facebook | P.U.T.S. Online | Last.fm | iLike | Y! Music | AllMusic
Track Information:
Album: O.S.T
Release Date: June 4, 2002
Buy Links: Amazon | Amazon Mp3 | Amazon Vinyl | iTunes