How do they only have a few thousand plays on soundcloud?
Posted by in Electronic
Mar 13th, 2012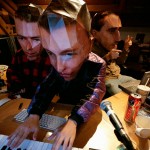 While Pance Party hasn't put out any new material in a while, I think it's important that you, our beloved readers, take some time to explore their [relatively brief] catalog of unique electro-house goodness. Pance Party's tracks, characterized by super fat basses, melodic synths, and brain-tingling vocal shots, stand more than a cut above the rest of the increasingly monotonous electro scene.
I wish these guys had stayed together, but if the rumors that The M Machine was born from Pance Party's ashes are true then I'm more than happy to wait for their LP to drop, whenever that may be.
The focus of this post is on one particular Pance Party release, my personal favorite, their Rainbow Road EP. Have a listen, and take advantage of the guys' FREE Mediafire download of the EP.
Pance Party
Genre: Electro-House
Styles: Electro, 8-bit,
Location: San Francisco, CA
Names: Swardy, Eric, Andy (no last names?)
Pance Party on: PanceParty.com | Facebook | SoundCloud | Last.fm