featuring Jay-Z, Rick Ross, Bon Iver & Nicki Minaj
Posted by Zechmann in Hip-Hop
Aug 29th, 2010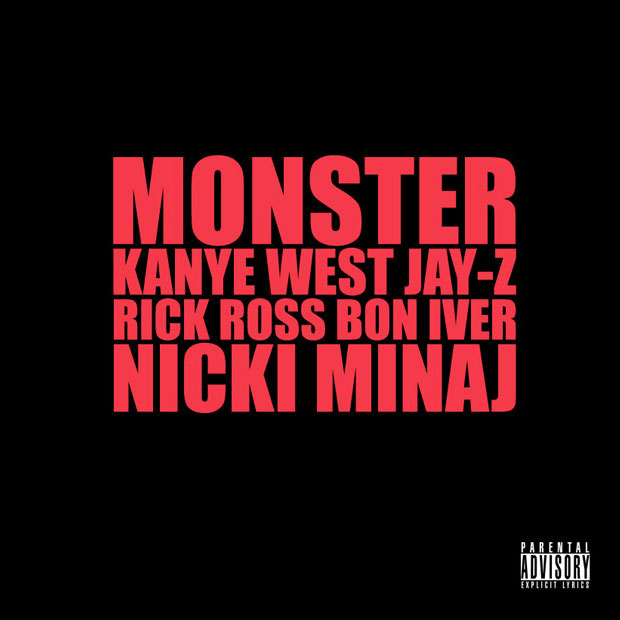 A couple weeks back I heard Justin Vernon (Bon Iver) was working with KanYe on his new album, Dark Twisted Fantasy, due out in mid-November. A collaboration with Vernon is just what KanYe needs, especially after hearing Vernon's work on GAYNGS.
A preview of what's to come was posted yesterday on KanYe's blog. The new mix, "Monster" shows some promise for these two, especially when you throw Jay-Z into the mix. Unfortunately, the two others featured, Rick Ross & Nicki Minaj, aren't as promising.
Not just 24 hours ago, I was listening to MTV – we all have our guilty pleasures at 4 am (usually infomercials for me) – when I heard Sean Kingston's "Letting Go" featuring Nicki Minaj. It just reminded me of how much shit still gets promoted on the airwaves these days – and how thankful I was to avoid it (thank you, Internet)! But I guess I'll have to endure it this time. Fortunately, after listening to "Monster" a few time, the two didn't completely ruin the track.
Although, KanYe's lyrics are quite becoming of a megalomaniac, his GOOD Music sound is still as present as ever (though, more so in "Power"). Vernon & Jay-Z kept the song strong, giving some breathing room between two other 'step-children' of the song. I guess "Monster" is just a good indication of what the album will be like – a mix of the best and worst from the industry.
Question: What do y'all think of Nicki & Rick's contribution? Am I just overreacting because of my dislike for mainstream garbage – especially from the wanna be Lil' Kim :)
[audio:Monster.mp3|titles=Monster (feat. Jay-Z, Rick Ross, Bon Iver, Nicki Minaj)]
Get MP3
Muppets Parody Kanye's "Monster":
Fucking hilarious!

KanYe West Info:
Birth Name: Kanye Omari West
Born: June 8, 1977
Hometown: Chicago, Illinois
Label: Def Jam Recordings
Album: The College Dropout | Late Registration | Graduation | 808s & Heartbreak
Similar Artists: KiD CuDi | Wale | Lupe Fiasco | Common
Links: Wikipedia | Facebook | Twitter | Last.fm | AllMusic
Monster Info.:
Album: Dark Twisted Fantasy
Release Date: November 16, 2010
Featuring: Jay-Z, Rick Ross, Bon Iver, Nicki Minaj