The future of Bass Music
Posted by Zechmann in Electronic, SoundKlout
Aug 29th, 2011
Our SoundKlout series is all about finding the best artists SoundCloud has to offer. Each article will spotlight a handful of good music from a selected SoundClouder. If you know anyone that needs noticing, make sure to hit us up with a few of their tracks.
Going through Minnesota's dubstep music, you start to see the progress in his work over the last year. His latest EP, Ancient Machines, puts Minnesota's music on a whole 'nother level. It kind of reminds me The Beatles, their first few hits were catchy, but it's only 'til their later work does a whole new style of music emerge. I'm not saying he's doing for dubstep what The Beatles did for rock, but he's well on his way.
Let us know who you think the purveyors of dubstep are
(And help support our SoundKlout effort)
Minnesota – Breathe
I think this may beat them all. And when I say beat them all, I mean all of the other tracks, combined. That high-pitched melody just puts me on a whole new level.

Minnesota – Push It
"Push It" may not touch on the highs of "Breathe," but that sharp-textured bass plays a good tune as well.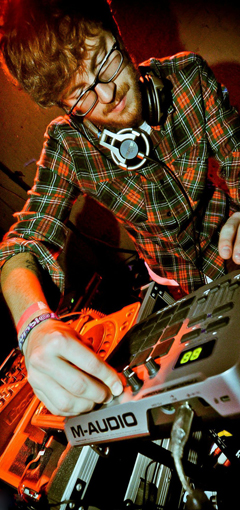 Minnesota – California Dreamin' (Minnesota RMX)
One of my favorite dubstep remixes of a rock classic, Minnesota takes on The Mamas & The Papas' "California Dreamin." What a fuckin' drop at the start.

Minnesota – Hold Up
It's one simple sample, but it gives "Hold Up" that needed break. Timing is key, and Minnesota hits the drop right on it.

NiT GriT – Babylon (Minnesota RMX)
I write off a lot of dubstep purely because the bass-coiled drops just don't live up to the hype of their build-up. However, Minnesota remixes NiT GriT's "Babylon" like a boss with a dirty drop that's much appreciated.

Minnesota – Fluorescent Turtle Surfing
Ya can't get much more experimental than this. I'm usually pretty good at figuring where the beats going next, but I can barely tell what the beat is in this – which makes it so damn attractive. I swear I can also hear a Mario-type theme throughout, but I heard that in some of Hooky's too.. guess I'm goin out of my damn mind.

Adele – Rolling in the Deep (DeathStar Remix)
This may not have been my favorite "Rolling in the Deep" remix, but the competition was beyond healthy. It was, however, our first look into the DeathStar duo, Minnesota & Marty Party, and a precursor to this Future Bass music.

Minnesota – Oakland Baby (T00 $hort RMX)
I'm always pushing rappers to get into dubstep, but it's still only an emerging thing in hip-hop. Here, Minnesota puts Too Short into a bassed out wobble that's too befitting of the Bay Area native. This is the future of bass music, the future of hip-hop.

Minnesota – BirfdaySEX!
Not feelin the start, but once it gets, Minnesota puts birthday sex into a whole new game. I knew rap needed some dubstep, but this R&B sounds like it needs a dose as well.

Minnesota
Birth Name: Christian Bauhofer
Origin: MINNESOTA
Location: Santa Cruz, California
Links: SoundCloud | Facebook