"Throw your hands high for the crew J5."
Posted by Zechmann in Hip-Hop
Oct 10th, 2009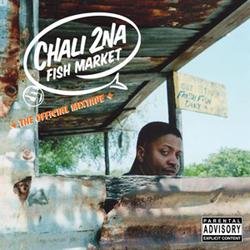 Chali 2na is most notable for his role in the hip-hop group Jurassic 5 (J5). J5 got its start back in the late 90's with its self-titled album, which became an instant hit in the underground music scene. I've been listening to J5 for some time now, and credit them for introducing me to (good) hip-hop. The group has a rhyme & flow that many try to emulate, but few pull off as well as J5.
J5 consists of a handful of talented MCs, but Chali 2na's voice stands out above them all. 2na has one of the most widely known voices throughout the hip-hop community. It can best be described as a smooth, mellowed-out voice, yet he can flow faster than most MCs. In Linguistics, 2na along with the rest of the J5 crew create a fine rhythm that is signature J5. But don't get me wrong, the beat is original with fresh, new lyrics. My only complaint with the song is the fake vinyl scratches, which I've found quite a bit in some hip-hop classics, e.g. Deltron 3030's song Mastermind. Other than that, Linguistics is a song you can play over and over again.
2na recently came out with his second full-length album, "Fish Outta Water", in late June. I've had a few listens to it, but haven't made a final verdict, yet. I'll get back to y'all when I do.
[audio:Linguistics.mp3|titles=Linguistics (DJ Dez Remix)]
Download Song!
Artist Information:
Genre: Hip-Hop
Location: Los Angeles, CA via. Chicago, IL
Label: Traffic Entertainment Group
Member of: Jurassic 5 | Ozomatli
Additional Albums: Fish Outta Water
Similar Artists: Del tha Funkee Homosapien
Links: MySpace | Wikipedia | Facebook | Last.fm | iLike | AllMusic | Y! Music
Track Information:
Album: Fish Market: The Official Mixtape
Release Date: November 9, 2004
Featuring: Jurassic 5
Buy Links: Amazon | Amazon Mp3 | iTunes | CD Universe
Note: Amazon & iTunes do not include the version with Linguistics in it.