Sexiest producer in the Pacific Northwest
Posted by Zechmann in Electronic, SoundKlout
Sep 28th, 2011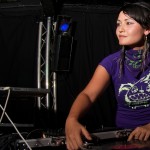 Our SoundKlout series is all about finding the best artists SoundCloud has to offer. Each day we'll spotlight a handful of good music from a selected SoundClouder. If you know anyone that needs noticing, make sure to hit us up with a few of their tracks.
Really don't want to belabor this point, but I've finally found a female producer to show off! As many female musicians as we've featured on here, I rarely come by a producer, let alone a top-notch one! Now we get one that not only produces some heeaaavy electronic, but switches up her style every damn time. From dubstep to downtempo, ill-esha's production is mighty fine.
One issue I had with her SoundCloud page is her abundance of clips, although a lot of them seemed complete. I've included some of my favorite clips at the bottom, now I gotta go hunt some of their full versions down.
The Weeknd – The Morning (ill-esha's lovestep jam)
The Weeknd is a hot remix canidate right now, yet few stack up to their original. ill-esha's Lovestep remix of "The Morning," however, is one of the best I've heard, yet.


Outkast – Crumblin' Erb (ill-edit)
Awww, ya. I may know A TON of Outkast remixes, but none with the funky-smooth bass'd out groove like this.

Blackstreet – No Diggity (ill-esha Remix)
Was about to quote a few classic lines from this, but there are just too damn many. R&B glitched the fuck out!

Keith Sweat – Keep it Comin (Bootleg)
Remixing this summertime love jam puts a whole new love on Keith Sweat's song.

Woof – Puttin on the Ritz (ill-esha remix)
Haha, of all things to get glitched-out. Good use of the original instrumentals.

Lenny Kravitz – Statue of Diminishing Liberties (Bootleg Remix)
Intro's a bit drawn out, but good viiibes no doubt. But when Kravitz kicks in, shit gets glitch-funky coool.

A Few Clips I Enjoyed
ill-esha
Genre: Electronic
Styles: Dubstep, Downtempo, Chill
Location: Vancouver, B.C.
Ill-esha 0n: Facebook | Soundcloud | Twitter | Myspace | Ill-esha.com