"Here we go again."
Posted by Zechmann in Hip-Hop
Nov 9th, 2009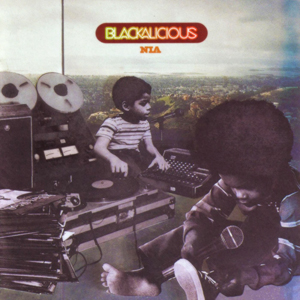 Blackalicious consists of an MC, Gift of Gab, who's best known for abstract & intellectual lyrics. Accompanied by Chief Xcel, DJ for the group who does a great job blending Gift of Gab's groove stricken voice into his own funkified & hypnotic beats.
If I May is off Blackalicious's first album, Nia. The song has, like usual, outstanding & rich instrumentals by Chief Xcel. Gift of Gab unfolds his unique talents, as well, but where this song differs is from the two featured acts: Lateef the Truth Speaker & Erinn Anova. Lateef, member of Latyrx, just gets better every time you hear him. When I first listened to Latyrx, I was amazed by Lyrics Born's vocal talents (the other member of Latyrx). It took me a while to really appreciate Lateef's talent, but when I did, he'd get better every time I'd listen to him. Not only does Lateef bring something to the table, but Erinn Anova makes for a perfect chorus, as well as accompanying Lateef with a well done duet. This song is a nice relax, and contains lyrics that are inspiring, yet not as intricate & abstract as Blackalicious songs usually are. Check this out if you are a fan of the Quannum collective, it highlights the best of 'em.
[audio:IfIMay.mp3|titles=If I May]
Download Song!
Artist Information:
Genre: Hip-Hop
Location: Davis, Ca
Members:
Gift of Gab (Tim Parker): MC
Chief Xcel (Xavier Mosley): DJ, Producer
Label: Quannum Projects
Additional Albums: Blazing Arrow | The Craft
Similar Artists: Latyrx | Lifesavas | The Mighty Underdogs
Links: Blackalicious.com | Wikipedia | MySpace | Last.fm | iLike | MTV | AllMusic | Y! Music
Track Information:
Album: Nia
Release Date: February 29, 2000
Featuring: Lateef the Truth Speaker & Erinn Anova
Buy Links: Amazon | Amazon Mp3 | Amazon Vinyl | iTunes