For all those arrogant MC's.
Posted by Zechmann in Hip-Hop
Mar 31st, 2010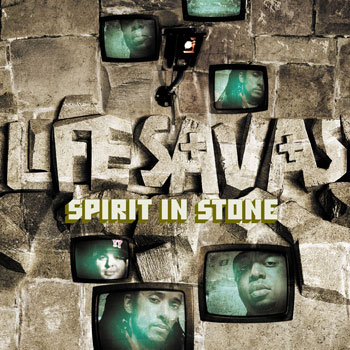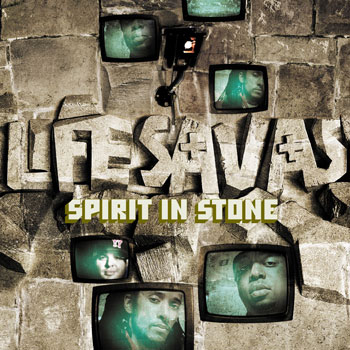 I wanted to feature another song from Lifesavas's latest album, Gutterfly: The Original Soundtrack (2007), but I already featured "No Surprise" a while back, so I wanted to go with something from their first album, Spirit in Stone. I haven't been listening to these guys as much lately, mostly because they haven't come out with anything new for a while, but this feature, as well as many other tracks by 'em, are a must have for any hip-hop head.
So, I was debating between two songs from Spirit in Stone – one with a better beat, one with the a better storyline – and unlike my usual self, I went with the lyrical selection. Sorry "It's Over", maybe next time, this one goes to "Hellohihey" for its well crafted story and witty dialogue. The song portrays an egotistical MC, played by Vursatyl, who thinks he is God's gift to hip-hop. Typical rapper right?… well, the story comes together in the end with a humble closing, which is refreshing to hear amongst all the misogynistic rap coming out these days.
[audio:Hellohihey.mp3|titles=Hellohihey]
Download Song!
Artist Information:
Genre: Hip-Hop, Funk
Location: Portland, Oregon
Members:
Jumbo the Garbageman (Sleepy Floyd): Emcee, Producer
Vursatyl (Bumpy Johnson): Emcee
Rev Shines (Jimmy Slimwater): DJ, Producer
Label: Quannum Projects
Albums: Spirit in Stone | Gutterfly: The Original Soundtrack
Similar Artists: Latyrx | Blackalicious | Boom Bap Project | The Mighty Underdogs
Links: MySpace | Facebook | YouTube | Wikipedia | Last.fm | iLike | Y! Music | AllMusic
Track Information:
Album: Spirit in Stone
Release Date: July 1, 2003
Buy Links: Amazon | Amazon Mp3 | iTunes