or Beats to Blaze to Volume 2
Posted by Zechmann in Electronic
Oct 4th, 2009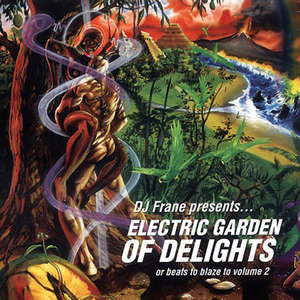 I started listening to Frane about a year ago when I found his third album, Journey to the Planet of Birds, on a favorite forum of mine. After my fixation with the album died down, I decided to get my fix off of his other albums, so I gave Electric Garden of Delights a try.
I'd characterize Electric Garden as a mind-altering, drug-influenced arrangement, a lot like his other albums. But unlike his other albums, this album is set in a blissful garden, enchanted with exotic creatures and psychotropic plants. It's an appealing album, but I'm not sure if it can hold up to his other works.
[audio:IntheGarden.mp3,IamDreaming.mp3,GreenBudsintheSpringtime.mp3,ThoughtSeeds.mp3,TheImpossibleDream.mp3,HiWithoutU.mp3,BonusBananaFunk.mp3|titles=In the Garden,I am Dreaming,Green Buds in the Springtime,Thought Seeds,The Impossible Dream,Hi Without U,Bonus Banana Funk]
This is the point where you start the music.
In the Garden brings back memories of driving to Chicago with my sis. We had this on repeat along with a few other songs because the tape adapter for my iPod went to shit. The song is a crisp blend of psychedelic instrumentals along with some rap sampling. The chorus is catchy, and the rap samples go well with the trippy instrumentals.
I am Dreaming is an intoxicating mix of euphoric bliss. With its slow and relaxing melody, it hymns to the pace of the inebriated. I actually recall listening to this while drunk off my ass, it was enjoyable. :)
Green Buds in Springtime Frane has a slight reputation with incorporating marijuana into his albums. I guess this is pretty obvious by the caption next to the title… (or beats to blaze to volume 2). But however he does it, he does it well. It doesn't matter if you "blaze" or not, you can definitely enjoy Frane's craftful beats, regardless… though the former maybe a bit more enjoyable. 8O
Also featuring Thought Seeds, The Impossible Dream, Hi Without U and Bonus Banana Funk… there were quite a few other songs I appreciated, but didn't have enough to say to give 'em due credit.
Once again Frane steps up with an album that is uniquely his. I find that most trip-hop artists lack well-suited, soulful instrumentals, unlike Frane who seems to select the prime cut. This may not be my favorite album of his, but it's still a top contender in my collection.
Artist Information:
Genre: Electronica, Trip-Hop, Hip-Hop, Downtempo
Location: Santa Monica, California
Label: City Massive
Additional Albums: Frane's Fantastic Boat Ride | Journey to the Planet of Birds
Similar Artists: DJ Shadow | TM Juke
Links: Myspace | Facebook | Twitter | Last.fm | iLike | AllMusic
Album Information:
Relase Date: September 8, 2003
Buy Links: Amazon | Amazon Mp3 | iTunes