Music was good, visuals were better
Posted by Zechmann in Electronic, Live
Oct 5th, 2015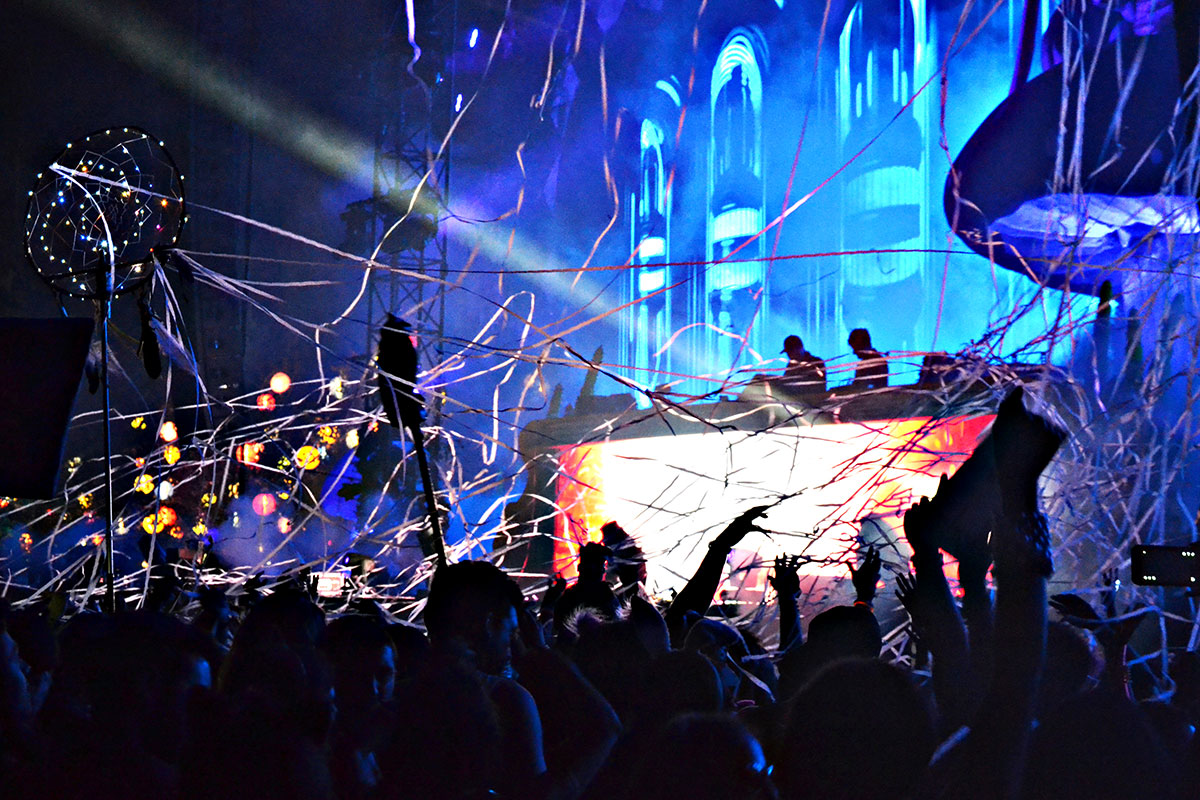 The music at most edm festivals mostly miss, but sometimes ya find a hit. Unfortunately that hit wasn't the music this year at Beyond, but the visuals.
I met with a visual supervisor from the Mad Hatter's stage and he let me check out what he does at a live set. Let's just say there's not much glamour in his performance, but the performance he puts on was breathtaking. Not for the epileptic though. It seems the visualsm from the lights to the costumes and exhibits are evolving quicker than the music at these festivals.
I'm not much for the harder, bass driven music that's still popular today, if you couldn't tell yet. So like every year before it I put together a playlist that I'd love to see live (mixed right). The first year I did this was general high bpm dance tracks, but the second year I went specifically for the bass. This year was the best of bass since we started Silence six years ago. It may not be defining what I love now and probably won't for many years, but it did have its place and may once again. It's all about soul right now (and has always been).
We got a drug problem
Before covering Insomniac's Beyond Wonderland, there was another edm show I went to at the Shoreline back in 2012. My friend at the time decided to pop what he thought was ecstasy, which I can't complain about too much as long as he knew what it was. Unfortunately in this world most people can never be sure.
After an hour of "not feeling anything," he decided to take another. And I found out after the show about a half dozen more after that. Point is, people are fucking idiots and festivals like this have to take extra precaution because of it.
I actually accidentally ran into the medical tent this year (I like to explore) and it was the most intriguing thing. I can't tell you how impressed I was at the professionalism and care they provided there. It looked like a medical tent prepared for war. I guess this is what the war on drugs has lead to.
Beyond Wonderland has been the most strict about drug use out of any festival I've been to over the past few years. However, their effectiveness is constrained by laws and the pressures politics puts on it. Our priority needs to be education and transparency.
Idiots or not, people are going to experiment, it's in our blood, and it's just as idiotic to think making it illegal will do anything but harm the situation so much more. If we don't rethink our stance on drugs and what's actually safe, many people will unnecessarily suffer and no good will come of it.
A Little Bit Harder Now tracklist
Pretty Lights – I Know The Truth
Amp Live – Hot Right Now (Bassnectar Remix)
Paper Diamond – All We Do Is
Dack Janiels- Ratchet
F.O.O.L – Krieg
Dead CAT Bounce & Hydrak – Nyctophilia (Dirty Mix)
XV ft. Wiz Khalifa – Gobstopper (Figure Remix)
Diplo & Don Diablo – Make you pop (Hooky Dubstep Remix)
Marcy Playground – Sex and Candy (Papa Skunk RMX)
Jade Blue & Frequency – Lately
Up Until Now – Hood Shining (The Best Dancers Mix)
Toxo – Need Your Love
ALISKY – WE DO IT BETTER [WDIB]
Blue Foundation – Eyes on Fire (Beautiful Confusion Remix)
Big Gigantic x GRiZ – Power
DeathStar – Funk Soul
Stephan Jacobs – Blind Dreams (feat +Verb)
Mimosa – FL0URESCENCE
NastyNasty – Acid Hangover
clay – UO