With some stops in Hip-Hop & Disco along the way.
Posted by Zechmann in Compilations
Jan 24th, 2012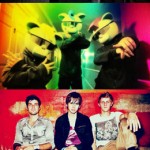 I was a little hesitant on compiling a list of my favorite non-electro heavy tracks for 2011. It seemed like most blogs had the gist of what mine would look like and, for the most part, I didn't have too much to add. But I decided to sack it up and do it anyway because (1) I wanted to keep track for future reference and (2) I did manage to find some real gems in here.
I also tried to make it all flow together
Instead of just a random list of favorites, so let me know how I did


The Weeknd – The Morning
It's nice to see an artist you hear a lot of potential in actually get his paid dues. I never thought The Weeknd would blow up as fast as he did, but it was sick to see it happen. Plus he's got so much more potential… if he plays his cards right.
[audio:The-Morning.mp3|titles=The Morning]
Frank Ocean – Thinking About You
I was a lot later to the Frank Ocean party than most, but I'm definitely catchin the wave. What he triumphs over so many others in is his clear way with words. He, along with The Weeknd, are going to reinvent soul music.
[audio:Thinking-About-You.mp3|titles=Thinking About You]
Birdy – People Help The People (TIP's Rework)
Birdy's original was more than just beautiful, but one thing it didn't have was a progressive style to it. I try not to take preference with remixes over their originals, but TIP provides such a unique style that makes her vocals flourish. He pushes that organic//analogue style in with electro so soulfully. The one thing I didn't like, at first, were the vocal distortions, but what TIP does with them actually make it work.
[audio:People-TIP.mp3|titles=People TIP's Rework]
Starfucker – Julius
How in the (star)fuck have these guys already split up (somewhat)? It sure as hell surprised me when I heard Ryan (singer) split from the group a few months back – although, he did seem exhausted when I saw the group perform in Minneapolis. It's like if The Beatles split after With the Beates [aka not a good idea].
[audio:Julius.mp3|titles=Julius]
Flight Facilities – Foreign Language feat. Jess
Flight Facilities is doing.it.right. Their fine blend of Disco+Electro, along with some of the most sultry singers on the planet, make for one orgy of stimulating grooves.
[audio:Foreign-Language.mp3|titles=Foreign Language]
Penguin Prison – Don't Fuck With My Money
I can't tell you how much I love the word fuck sung by any sweet vocalist (childhood repression) and it doesn't get too much better than this. Penguin Prison barely made it on this list – only recently found out about them through a remix, of course – but it's definitely the fastest rising out of any ('cept maybe Franky O.)
[audio:Dont-Fuck-Money.mp3|titles=Don't Fuck With My Money]
Smokey Robotic – Forever My Love (Original Mix)
Kind of a funny story behind this, let's just say it took me a couple listens to feel it out, but it's been flowing better than ever since. One of the coolest personas I've seen in this dressed up DJ kinda world.
[audio:Forever-My-Love.mp3|titles=Forever My Love]
Foster The People – Helena Beat
And yet another one I fell in love with the remix before the original. It's just when you're trying to find the unknown, sometimes you forget to listen to the (good) known – but I get around to it eventually.
[audio:Helena-Beat.mp3|titles=Helena Beat]
Childish Gambino – Fire Fly
Just to get this straight, "All the Shine" is my overall pick for Gambino, but my personal favorite, which fits best here is mos definitely "Fire Fly". See that's the problem with Gambino, I can't pick one when they're all equally damn good… cause nothing stands out, but does make for one hell of an album.
[audio:Fire-Fly.mp3|titles=Fire Fly]
KeithCharles Spacebar – PrettyBrownEyedGirl
Not to take away from _Spacebar's music, but a big reason he's on here is because that jazzy, R&B style of hip-hop was fairly underrepresented this year. Although, it's got a lot to do with my newly found interests in other emerging genres, which makes it difficult to catch it all in hip-hop.
Besides that, KeithCharles Spacebar shows alotta potential. His neo-soul style hits just.right..
[audio:PrettyBrownEyedGirl.mp3|titles=PrettyBrownEyedGirl]
Lana Del Rey – Video Games
I really don't get the controversy behind her. It should be all about the music. Yea, she wasn't all that good on SNL, but that makes her music even more beautiful, much more. Even if her story isn't all that true, music is meant for more than just personal struggles – it's about fantasies, stories and not just one's experience here.
[audio:Video-Games.mp3|titles=Video Games]
Lykke Li – I Follower Rivers (The Magician's Remix)
Lykke Li reminds me of Jessica Alba, but with a European mystique. In her 2011 hit, "I Follow Rivers" was what really got me into that melancholic voice again and set me up for artists like Lana & Birdy. Again, and it wasn't an easy choice, I had to substitue the remix for the original. The Magician's remix is what turned me onto Lykke and makes her sad, sad story shine with a glimmer of hope.
[audio:Follow-Rivers-Magician.mp3|titles=I Follower Rivers (The Magician's Remix)]
Gotye – Somebody That I Used To Know (feat. Kimbra)
There may be some better story tellers on this list, but none with such well read lyrics. These two really made me believe in their relationship gone to basically nothing.
[audio:Used-To-Know.mp3|titles=Somebody That I Used To Know]