The Millionaire Mashmakers
Posted by Zechmann in SoundKlout
Sep 19th, 2011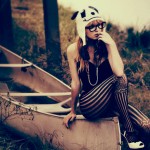 Our SoundKlout series is all about finding the best artists SoundCloud has to offer. Each day we'll spotlight a handful of good music from a selected SoundClouder. If you know anyone that needs noticing, make sure to hit us up with a few of their tracks.
With over a hundred damn tracks on SoundCloud, this wasn't the easiest feature to get through. The White Pandas are straight up mashers and, although, they mostly deal in the mainstream pop & hip-hop I don't usually care to feature on here, I still managed to find some properly put together tracks. These two really know how to take apposing styles and whip 'em up as one.
Midnight Life (M83 // Kanye West Mashup)
It's their newest and growing to become their best. Kinda sounds like an offshoot of something Kanye would produce. Well picked, pandas.



Shutterbug Swing Tree (Big Boi // Discovery Mashup)
Love this beat against Big Boi! Never would've thought they'd match up, but these two pandas got a real ear for it.

Your Woman (White Town Remix ft. Dorrough)
Dorrough with White Town's one-hit wonder? Thought it was a joke at first, but this be no joke – shit hits like the fine remix that it is.

Get Ready To Go Low (2 Unlimited // Ludacris Mashup)
Luda is one mashed mother, but as always the Pandas put a fresh take on Luda's swag. "How low can you go?"

Shooting Superstars (Eminem // Bag Raiders Mashup)
I don't think I have one Eminem remix or mashup on here, glad to have this! Good viibes and brings out Shady's world well.

Fire Dust (Lil Wayne // DJ Fresh // Flux Pavilion Mashup)
Kanye might of thought he put Flux's dubstep on lock, but the Pandas go much harder with Weezy on top.

Excuse Me Miss Cyrus ((Jay-Z // Miley Cyrus Mahsup)
I guess Miley does backups well for Jay-Z… who would've imagined. Good switch-ups throughout, but I wish they would've sticked to the original viibe.

Drake and Diane (Drake // John Mellencamp Mashup)
Another example of the Pandas taking two apposing genres and mashing 'em up with style. Probably should've left Mellencamp's vocals out, something doesn't seem right when they kick in.

The Next Starf*cker (Dr. Dre // Starfucker Mashup)
This didn't work out as well as I would've hoped, but love the attempt. I think Dre needs a bit more bass.


Even more goodness which I have no idea what to write about :)
The White Panda
Genre: Electronica
Styles: Dance, Experimental
Members: Procrast, DJ Griffi
Origin: Los Altos, CA
Location: Chicago, Illinois; Los Angeles, California
Links: SoundCloud | Bandcamp | Facebook | Twitter | YouTube | MySpace | WhitePanda.com | Last.fm