4 out of 5 dentists recommend that you support Swollen Members.
Posted by Zechmann in Hip-Hop
Oct 25th, 2009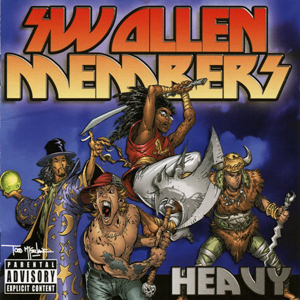 In honor of Swollen Members' new album, I decided to feature one of my favorite songs by them. The song, Therapy, initially caught my attention because of its Bay Area sounding beat. It sounds like something Mac Dre or E-40 would use. Along with that, Mad Child & Prevail weave a cunning lyrical composition. I especially love Mad Child's execution of his lyrics (follow 'em at Sing365). Mad Child & Prevail have always had a way with words, except, (possibly) in their upcoming album…
I have a strong appreciation for Swollen Members' talent in both DJing & MCing. They've proven themselves in each area throughout the underground hip-hop scene, and have built a name independently of any major record label. Each album is a unique flavor of their talent, and, unlike many hip-hop artists, has grown from its predecessor to produce something new and innovative. That said, I listened to their upcoming album, Armed to the Teeth, and was sadly disappointed. I absolutely hate the emergence of auto-tuning, done by quite a few mainstream artists, and quite a bit in Armed to the Teeth. However, I can understand Swollen Members attempting it, because it goes well with their style, but it was overdone. Not only that, their lyrics seem to have turned to a more mainstream audience, which I wouldn't expect from them. But, this is my first impression, and I can be too critical at first, so hopefully my opinion changes after a few more listens.
[audio:Therapy.mp3|titles=Therapy]
Download Song!
Artist Information:
Genre: Hip-Hop
Location: Vancouver, British Columbia
Members:
Mad Child (Shane Bunting): MC
Prevail (Kiley Hendriks): MC
Rob the Viking: Producer
Label: Battle Axe Records
Additional Albums: Balance | Bad Dreams | Monsters in the Closet | Black Magic
Similar Artists: Kottonmouth Kings | Dilated Peoples | Moka Only
Links: MySpace | Facebook | YouTube | Wikipedia | Last.fm | iLike | AllMusic | Y! Music
Track Information:
Album: Heavy
Release Date: October 27, 2003
Buy Links: Amazon | iTunes