From the bassed-out minds of Sugarpill & ChrisB.
Posted by Zechmann in Electronic
Jan 9th, 2012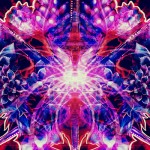 Sugarpill & ChrisB. team up as Swordfight to bring us a fine mix of lazer-crunk madness and soothing, bass-filled melodies. This'll be a part of the Disciples of Headtron: Vol. I mixtape, which takes all the West Coast crunkers and compiles 'em for fine tuning. Let's just say if they're all as basstastic as this, I'll be fiending fo more!