"One DJ & One MC"
Posted by Zechmann in Hip-Hop
Nov 11th, 2009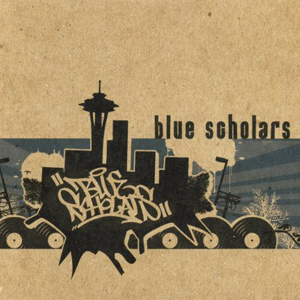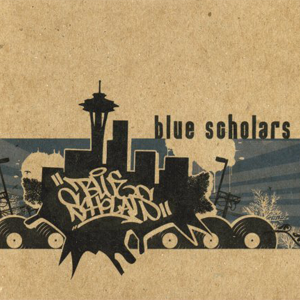 I'll admit it, I was wrong when I said, "[n]ever has a hip-hop album got it so right on the first track", referring to an article on Mission Statement by Mayday. But, to my defense I did say "I over embellish at times"… which I do.
That aside, never has a hip-hop album got it so right on the first track. ;) But, seriously… The introduction (or reintroduction) on Blue Scholar's self-titled album is a slick start to a legit album. Sabzi, DJ & producer, creates one chill beat, which Geologic (MC) lays some mighty fine lines to. I love the mix between Sabzi's beat & Geologic's voice. Especially, compared to Sabzi's other group, Common Market, which has a respectable sound, but just doesn't compare to Blue Scholars in quality consistency. On the negative, the lyrics from the chorus weren't to my liking… "Blue Scholars in the place to be. We got one DJ and one MC. And that's it, that's it, that's it." [x2]… I'm glad y'all can pull it off with JUST two people. :roll: … I'm trying to be unbiased, and point out the positives, as well as the negatives… as stupid as they may be.
[audio:SolsticeReintroduction.mp3|titles=Solstice: Reintroduction]
Download Song!
By the way, the chorus is much better live (e.g. this YouTube video):
httpvh://www.youtube.com/watch?v=CwLmJ18Mw8Q
Artist Information:
Genre: Hip-Hop
Location: Seattle, Wa
Members:
Geologic/Prometheus Brown (George Quibuyen): Emcee
Sabzi (Alexei Saba Mohajerjasbi): DJ, Producer
Label: MassLine Media
Additional Albums: The Long March EP | Bayani | Bayani Redux | Oof! EP
Similar Artists: Common Market | Abyssinian Creole | People Under the Stairs
Links: Official Blog | MySpace | Facebook | Last.fm | iLike | MTV | Y! Music | AllMusic
Track Information:
Album: Blue Scholars
Release Date: December 7, 2004
Buy Links: Amazon | Amazon Mp3 | iTunes