It's not just about the headliner
Posted by Zechmann in Electronic, Live
Jun 16th, 2019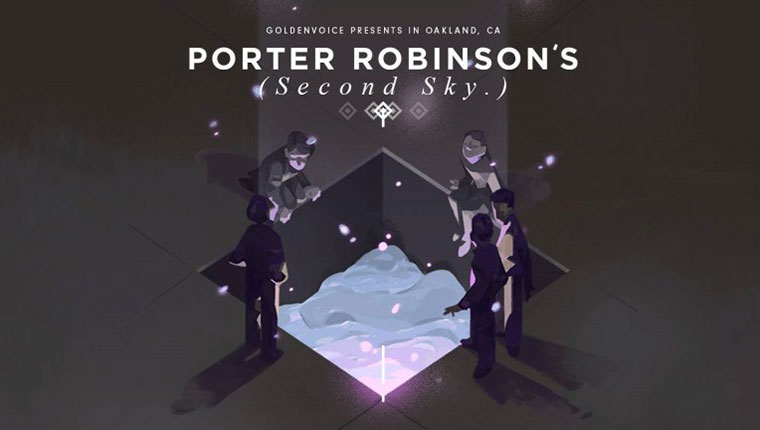 There are quite a few people in the music industry where I appreciate their influence more than their actual work. Porter Robinson is a great example. It's not that I don't enjoy his music, but what he's done for a few underserved musicians I know and many more will be far more long-lasting. And that's one of the reasons why Second Sky Festival exists. To showcase musicians that deserve a more global presence, or at least one in Oakland, California, where the festival is being held.
This year has been all about expanding my music taste globally. SXSW took me to Brazil, MUTEK to Italy, and now Porter Robinson's Second Sky to Japan.
I found Wednesday Campanella going through the festival's 10 acts. KOM_I's voice, lead singer of the group, will probably take me years to get used to, but it's festivals like this that will open me up to sounds, and more specifically languages, I'm not accustomed to. The group's sound is a beautiful intro into the Japanese language.
KOM_I created a recent YouTube Original to document her new album. Re:SET speaks on the parallels between the desire to grow your art, fan's judgment on that change, and the twisted nature of reality (literally.) I don't know if anything else could have gotten me more excited to see her perform live.
Wednesday Campanella's radiance
I've never seen a set so fun. Wednesday Campanella had a backdrop that was like an enormous parachute that filled the stage behind her. KOM_I was rolling around on it, having the time of her life while performing. Her joy was contagious. And just when I thought it couldn't get more fun, she pulled the big-ass thing off the stage and sent it floating above everyone. She ended her set on a ladder near the back of the crowd. Posing with pure joy.
Like Bixiga 70 in Sao Paulo, I need to see KOM_I in her home country, Japan.
The Goodest of Festivals
Porter Robinson's first annual Second Sky Festival was one of the most geniune festivals I've ever been to. Not only did care go into the smallest of details on the actual grounds, but something bigger than music was hehind it.
In 2016, Porter's brother, Mark, was diagnosed with an aggresive, fast growing cancer called Burkitt lymphoma. The cancer is rare in the US, but in Malawi it is the "most common childhood cancer and less than 50% of children survive."
Second Sky was built to help raise awareness of the problem and funds to combat it for family's in Malawi. It warms my heart that festivals like this have a bigger purpose than bringing people together for fun, but bringing them together around helping others. If you have the means, support Porter Robinson's Robinson Malawi Fund. I did.
Second Sky Festival tracklist
Porter Robinson – Divinity (ODESZA Remix) [feat. Amy Millan]
Madeon – Pop Culture
chrome sparks – Marijuana
CASHMERE CAT – Mirror Maru
Anamanaguchi – Merry Christmas Mr. Lawrence
Wednesday Campanella – Yaku No Jitsugetsubushi
Wednesday Campanella – Melos
Wednesday Campanella – Aladdin
Virtual Self – Ghost Voices
G Jones & Bassnectar – Mind Tricks ft. Lafa Taylor