And my two favorite acts = daytime parties!
Posted by Zechmann in Live
Aug 16th, 2012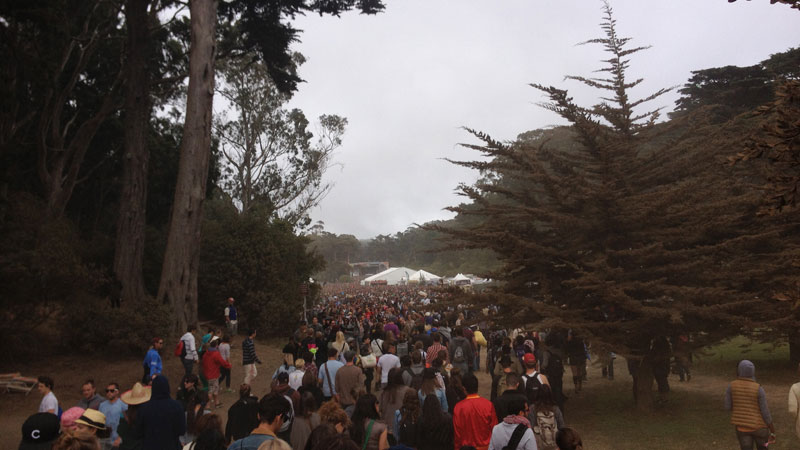 The Missing Ingredient
Outside Lands 2012 was an odd affair in a city forest. The music had a sharp range of talent, the food… oh god, the food was sogood and the people were quite pleasant & interesting to talk to. OsL did have its drawbacks though- it was cold as hell, dirty as shit & a trek to get to, but one thing especially bothered me that could've turned this massive music fest into a whole 'nother experience from any other and it just so happens to be what its city & the Bay Area are known for, technology.
Outside Lands takes us back to the beauty of nature and feels more like a party on Safari than in the middle of San Fran, but that doesn't mean it shouldn't try to innovative on what a festival means, especially considering where it's held. Since the technology capital of the world is right in its backyard, OsL needs to use that to its advantage to become a festival like no other. Not only would a better adoption with technology, especially anything social, help its name spread much farther & deeper across the web, but more importantly revolutionize the music festival experience. From advances in technological art to better socializing the whole festival experience – if OsL doesn't do it now, they'll have to do it later, but with many other festivals far ahead of it.
Favorite Performances
Passion Pit was definitely my favorite act of the festival and more so because of their fans than anything else. From the LA Lakers to Skrillex, most big names get the worst rep because of their fans. At Passion Pit's show, however, their fans made the scene, all of 'em were energetic, fun & open… though you always get some dicks.
Better yet, it introduced me to "Constant Conversations." Well, to be honest I had hurt it before, but it hit much deeper at Outside Lands. It's nice to hear a more soulfullish side to Passion Pit.

(St. Lucia's remix, but it still does the job)
While heading to the last day of Outside Lands, all I could talk to my friend about was Big Gigantic. "It's electro music with a sax leading, you're gonna love it." And boy did he ever.
Big Gigantic gave us a taste of the sax for almost every song and even introduced us to what's next in their music. It may just feel like more dubstep at first, but I can assure you it's a hell of a lot better. It's got that Pretty Lights analogue electronic // industrial dubstep heard on 'I Know The Truth' .

(that saxy is so sex)
"Does it make you feel good, Frisco!"

– James Hetfield (Metallica)