A relaxing compilation of covers.
Posted by Zechmann in Jazz
Sep 29th, 2009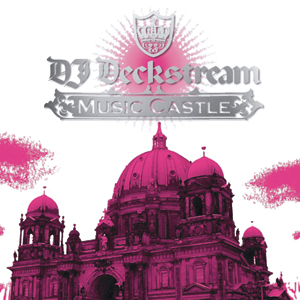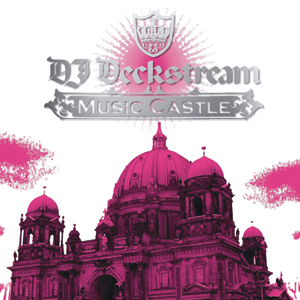 DJ Deckstream is a well established producer in Japan that has worked with several well-known emcees including Moka Only, Pep Love, Mos Def and Talib Kweli. His album, "Music Castle", is a stretch from his usual upbeat, hip-hop style to a jazzy, chilled-out set of covers. The album covers such classics as Tom's Diner, Just the Two of Us, Sweet Child o' Mine and a few others from genres in classic rock to rap.
[audio:WhatIam.mp3,JusttheTwoofUs.mp3,ToBeWithYou.mp3,SweetChildoMine.mp3,GetonDown.mp3,TrippingOut.mp3|titles=What I am,Just the Two of Us,To Be With You,Sweet Child o' Mine,Get on Down,Tripping Out]
Push play while reading the track summaries… or else!
What I am: A beautifully done remix originally by Edie Brickwell & New Bohemians. The instrumentals are phenomenal, but the vocals are overshadowed by Deckstream's rich remix.
Just the Two of Us: The first thirty seconds of the song have some pitches that seem off, but is all good after that. The rest of the song goes into a nice melody that doesn't deviate too far from the original sound. By the way, this song still reminds me of Mini-Me and Doctor Evil's duet in Austin Powers.
To Be With You: What stands out in To Be With You is Heart Evangelista's pure & graceful voice. This, along with Deckstream's lovely instrumentals, makes this song a joy to listen to. Deckstream has a talent for turning rock music into jazzy, laid back tunes. This is done exceptionally well in the next song, Sweet Child o' Mine.
Note: I am not completely certain that this is Evangelista's voice, but from my research, it's my best guess. The only information listed was the original composers, Mr. Big, and not who the actual vocals are from this song.
Sweet Child o' Mine* does a very nice job of remixing Guns N' Roses original song. I can't get this damn song out of my head! Like I mentioned before, Deckstream can take a rock classic and turn it into a chilled-out, smoke-worthy song. One thing I wish Deckstream would have tried (maybe he did) was putting in some vocals, maybe from Axl Rose?… maybe not. :P
* Favorite track.
Also featuring Get on Down and Tripping Out.
Later in 2009, Deckstream came out with with another album, "Soundracks 2.0", which was a follow up to "Deckstream Soundtracks". I've checked it out, and it features some fairly well known artists, but "Music Castle" still tops it all.
If you know of any other albums similar to "Music Castle", please put post 'em in the comments below! Thanks :)
Artist Information:
Genre: Electronica, Hip-Hop, Jazz
Location: Japan
Label: Lastrum Japan
Additional Albums: Deckstream Soundtracks | Soundtracks 2.0
Similar Artists: TM Juke | Nomak | Nujabes
Links: MySpace | Facebook | Last.fm | iLike
Album Information:
Genre: Jazz, Nu Jazz, Acid Jazz
Release Date: 2009
Note: I found barely any information on this album; and only one buy link at Juno Records, which was a little overpriced (unless you really want it on disc). Otherwise, send me an email and i'll hook you up with a link to the album.