featuring Mos Def & Talib Kweli
Posted by Zechmann in Hip-Hop, Jazz
Mar 10th, 2011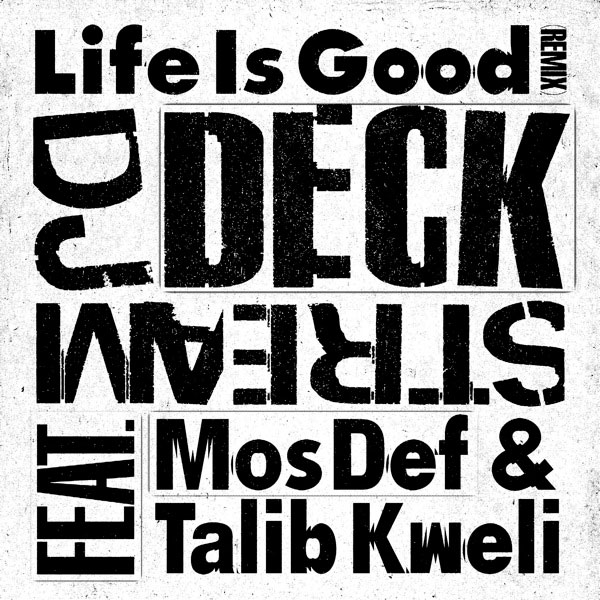 I was looking at my 'tracks to post' when I ran across Mos Def & Talib Kweli. For a second I was confused on why they were there, I haven't heard anything new from the two in a while and didn't think anything recently emerged. Then I saw who produced the tracks, DJ Deckstream, and realized why I need to post these up.
Deckstream is one of my favorite nu jazz producers from Japan. He's got a shit load of good tunes to chill to, but up until recently lacked good rap support. In Deckstream Soundtrack 2.0, the producer steps up his rap game featuring some talented rhymers, including Mos Def on the original "Life is Good". But on the two remixed versions that dropped last year, Mos Def gets some support by the other half of Black Star, Talib Kweli.
The Life is Good Remixes showcases why raps stars like these two need to expand their sound out East. Deckstream is one of the best producers from Japan and it's fresh as hell to see him supported by two hip-hop greats. Reminds me of Nujabes in a way – may he rest in peace.
[audio:Life-Is-Good-Remix.mp3,Life-Is-Good-Remix-2.mp3|titles=Life Is Good Remix, Life Is Good Remix Part 2]
Download: Life Is Good Remix | Life Is Good Remix Part 2
DJ Deckstream:
Genre: Electronica
Styles: Hip-Hop, Jazz, Nu Jazz, Soul
Location: Japan
Alias: Monorisick
Label: Lastrum Japan
Albums: Deckstream Soundtracks | Soundtracks 2.0
Links: MySpace | Facebook | Last.fm