New Zealand Reggae chilled for the cold winter
Posted by in Reggae
Jan 30th, 2011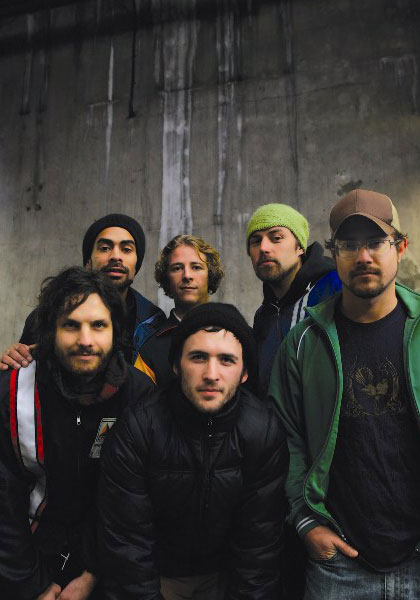 Quick, come up with 3 countries you think would be most likely to produce 2010's chillest album. Was New Zealand on your list? Didn't think so, but it's time to change that.
Lord Echo is the solo moniker of New Zealander, Mike Fabulous, a veteran of the Wellington music scene and member of the reggae band The Black Seeds. Melodies is his first solo release, and damn has he nailed it. He has taken a full complement of synthesizers, keyboards, guitars, basses, and horns, provided by both himself and a variety of other Wellington musicians, and crafted a masterpiece which blends reggae, dub, soul, afro, disco, funk, and jazz. The album is wall to wall brilliant, 53 minutes of pure sunshine and bliss. It's hypnotic, it's relaxing, and it is pure musical genius.
Fabulous doesn't have any sort of web presence, and in fact, I cannot find any place to purchase the album unless you happen to live in New Zealand (in which case you can do so right here). That being the case, I don't feel too bad telling you that a Google search of "Lord Echo Melodies" will turn up plenty of places where you can download it for free.
The album's highlight is the 11th and final track, a cover of the Sister Sledge song "Thinking of You", featuring Lisa Tomlins on vocals. It has been particularly helpful in getting me going on foggy, cold days this week.
If winter is getting you down, here is your antidote. Remember, right now, it's summer in New Zealand.
If you like what you're reading/hearing and want some more, head over to my blog, Listening to the Song in My Head.
[audio:Thinking-of-You.mp3|titles=Thinking of You]
Get MP3
Lord Echo:
Genre: Reggae
Styles: Reggae, Dub, Afro, Jazz, Soul, Funk, Disco
Origin: Wellington, New Zealand
Label: Economy Records
Related Groups: The Black Seeds | Shogun Orchestra | Fat Freddy's Drop