Mashups for RAAAAAAGING
Posted by Zechmann in Electronic, SoundKlout
Sep 27th, 2011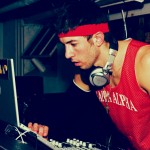 Our SoundKlout series is all about finding the best artists SoundCloud has to offer. Each day we'll spotlight a handful of good music from a selected SoundClouder. If you know anyone that needs noticing, make sure to hit us up with a few of their tracks.
Just another pop masher? NO! Kap Slap takes the pop and mashes it up with the biggest names in dance music making for some well tuned RAGERS. From House to Dubstep, this guy can really pop it off with these pop stars. Though, it would be nice if he went to the underground scene a little, eh?
Kap Slap – Guetta's Calling Solveig Up (Titanium x Hello x Pumped Up Kicks)
Somehow I've evaded Guetta 'til now, but I actually like what he brings. That funked up drop KICKS.


Kap Slap – E.T. Feels Starry Eyed (Club Mix)
Diggity damn is Ellie's voice mesmerizing. Add in some Perry (meh), Busta (yay!) and a dash of dubstep and this mashup is one hEAVY club banger.

Kap Slap – Paper Towels! (No Skit Club Mix)
Oh the day that I thought Britney would be tearin it up on SNG. Sure does fuckin' hit, though (like most of Kap Slap's).


Kap Slap – Can't Forget
It's no Blue Scholars cover of The XX, but Cudi & XX mesh/mash so well.

Kap Slap – Illmerican Blow (Club Mix)
Pretty solid mix of my favoriter Gartner track. Not feelin the dirty bit // "Shots Shot Shots" break, though.

Kap Slap – Flux Monsters (Club Mix)
Vocals get a little clouded out, but Kap Slap's mix of Flux & Skrillex is seamless. props tuh dat!

Kap Slap – Smells Like Montezuma (Club Mix)
Who mixes Nirvana into a headbanger? That's just ridiculous… ridiculously SVEET! (see how I just turned it around there)

Kap Slap – All Of The Nights (Club Mix)
Doesn't seem quite on with Cudi's first lines, but it warms up soon after. Eminem's cutin is a niice surprise (hopefully, I didn't spoil it for you ;)

http://www.youtube.com/watch?v=wYIo-9hF6xs
Kap Slap
Genre: Mashups
Name: Jared Lucas
Location: Lexington, Massachusetts
Kap Slap on: SoundCloud | KapSlap.com | Facebook | Twitter | YouTube