"I'll be a rootin' tootin' shootin' damn fool."
Posted by Zechmann in Hip-Hop
Dec 30th, 2009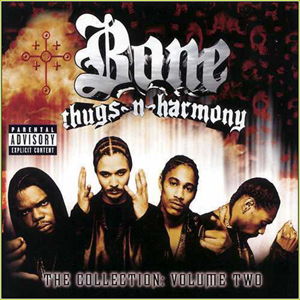 Every so often I become obsessed with Bone Thugs. I wasn't a big fan of 'em back in the day, even though I had some friends that were, but after a few decades they finally hooked me. My first favorite of theirs is without a doubt Ghetto Cowboy, even though it's technically by Mo Thugs, which is comprised of Krayzie Bone & Layzie Bone of Bone Thugs. The song tells a story of a few gun slingers back in the Wild West with a nice ghetto twist. It's not only a great story, but it's got a calm & coolheaded composition… not to mention it gives a shout out to good ol' Tucson, Az… my college town (brings me back :)). It's also worth mentioning the song features Layzie Bone's wife, Felecia, on backup vocals. Ghetto Cowboy may just be my top pick in the Bone Thugs collection, but the group has many other chill tunes, so make sure to look out for 'em on here…
[audio:GhettoCowboy.mp3|titles=Ghetto Cowboy]
Download Song!
Love the song, Love the video:
httpvh://www.youtube.com/watch?v=EVm7Smq-T0c
Artist Information:
Genre: Hip-Hop
Location: Cleveland, Ohio
Members:
Krayzie Bone (Anthony Henderson): MC, Vocals
Layzie Bone (Steven Howse): MC
Bizzy Bone (Bryon McCane II): MC
Wish Bone (Charles C. Scruggs): MC
Flesh-N-Bone: (Stanley Howse): MC
Label: BTNH Worldwide
Additional Albums: E.Eternal 1999 | The Art of War | Btnhresurrection | Thug World Order | […]
Similar Artists: 2pac | Eazy-E | Tech N9ne | Three Six Mafia
Links: Official Site | MySpace | Wikipedia | YouTube | Facebook | Twitter | Last.fm | iLike | MTV | AllMusic | Y! Music
Track Information:
Album: The Collection: Volume 2
Release Date: November 14, 2000
Featuring: Felecia (Layzie Bone's wife)
Lyrics: AZ Lyrics
Buy Links: Amazon | Amazon Mp3