"But nobody knows when it all unfolds."
Posted by Zechmann in Hip-Hop
Apr 8th, 2010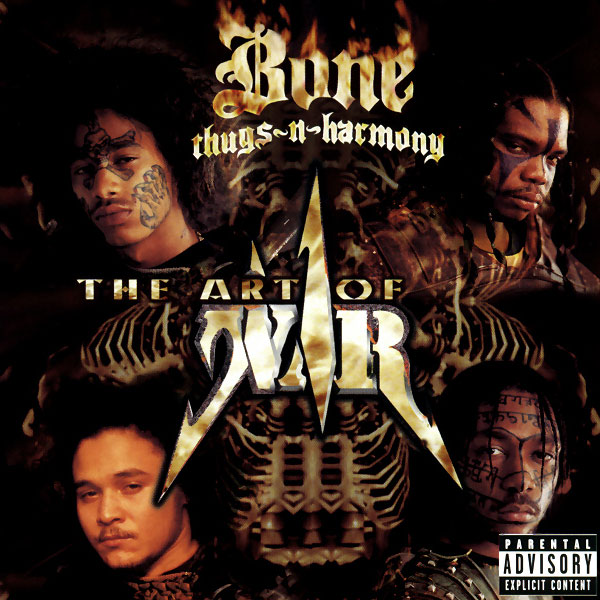 Originally, "If I Could Teach the World" was gonna be my first feature from Bone Thugs, but "Ghetto Cowboy" is what got me into the group, so I had to put that out first. I've been listening to Bone Thugs since middle school, but not by choice – my friends loved 'em, but I did not. Actually, I didn't even start appreciating hip-hop until my late high school/college years, and didn't get into Bone Thugs until I heard Ghetto Cowboy a few years later.
"If I Could Teach the World" is my more recent favorite of Bone Thug's. It may be the only song, wait, the only thing on earth that could make me feel like a thugsta. And if you ask anyone who knows me, they'd probably say that I'm the farthest thing from a thugsta there could be. Just me saying thugsta right now, sounds completely foolish in my head. …But all kidding aside, the song is a passionate, soul-searching piece that everyone should give a listen to, even us not-so-thugstas.
"If I could teach the whole wide world to be a thug-n-harmony, then i would teach the whole wide world to be a thugsta just like me."
[audio:IfICouldTeachtheWorld.mp3|titles=If I Could Teach the World]
Download Song!
Music Video:
httpvh://www.youtube.com/watch?v=IiYhxkCcV-0
(song starts at about 1:20)
Artist Information:
Genre: Hip-Hop
Location: Cleveland, Ohio
Members:
Krayzie Bone (Anthony Henderson): MC, Vocals
Layzie Bone (Steven Howse): MC
Bizzy Bone (Bryon McCane II): MC
Wish Bone (Charles C. Scruggs): MC
Flesh-N-Bone: (Stanley Howse): MC
Label: BTNH Worldwide
Albums: E.Eternal 1999 | The Art of War | Btnhresurrection | Thug World Order | […]
Similar Artists: Eazy-E | 2pac | Tech N9ne | Three Six Mafia | Brotha Lynch Hung
Links: Official Site | MySpace | Wikipedia | YouTube | Facebook | Last.fm | iLike | MTV | AllMusic | Y! Music
Track Information:
Album: The Art of War World War 1
Release Date: July 29, 1997
Lyrics: AZ Lyrics (watch out for FALSE Ads)
Buy Links: iTunes | Amazon (clean version only – not worth it)