by Easy Star All-Stars - releases October 26
Posted by Zechmann in Reggae
Sep 29th, 2010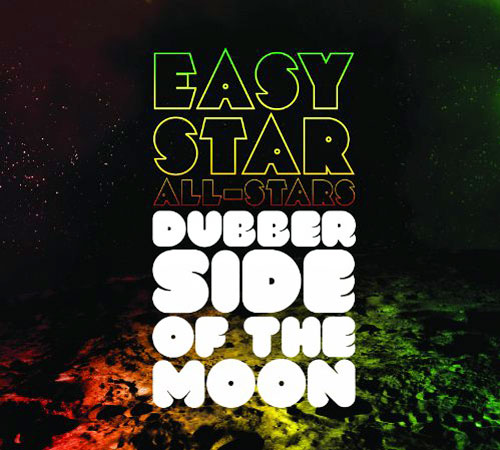 Dub Side of the Moon is a reggae tribute to Pink Floyd's Dark Side of the Moon. Since it's release in early 2003, the album has gotten marketable success and the group's been touring in support of it since. They also went on to cover other famous albums by Radiohead and The Beatles, but none grew to the success of Dub Side.
Recently, the group enlisted some of the best dubstep DJ's to remix Dub Side of the Moon to an even dubbier(?) dub (dubstep), rightfully titled Dubber Side of the Moon.
I've listened to a couple tracks so far and it seems like it's another unique take off Pink Floyd's original. I've only gotten to check out three songs and, although not all topped their predecessors, there's one that may have pulled it off.
For "Money", the group got their in-house DJ, The Alchemist, to remix the hit. His remix of "Money" was an even blend of the two similar styles, dub & dubstep, yet didn't over embellish the dubstep, which I find a lot of dubstep DJ's do. It's my top pick for the album so far, at least until I get to hear "Time".
Dubber Side of the Moon will be releasing on October 26 for the US and October 18 for the UK. Can't wait to hear it in its entirety, maybe with a little "Wizard of Oz"?… that'll be interesting.
[audio:Money-Alchemist-Remix.mp3,Money.mp3|titles=Money (The Alchemist Remix),Money]
Download: Money (The Alchemist Remix) | Money
Buy Links: Amazon | Amazon MP3
httpvh://www.youtube.com/watch?v=waLrqTiltmQ
Dubber Side of the Moon:
Release Date: October 26, 2010 (October 18, 2010 for the UK)
Dubber Side of the Moon on EasyStar.com
Easy Star All-Stars:
Genres: Reggae, Dub
Hometown: Jamaica; New York, New York
Members:
Michael Goldwasser: Producer, Songwriter, Composer
Victor Axelrod (Ticklah): DJ, Producer, Mixer
Patrick Dougher: Drums, Percussion
Victor Rice: Bassist, Producers
Label: Easy Star All-Stars
Albums: Dub Side of the Moon | Radiodread | Easy Star's Lonely Hearts Dub Band
Similar Artists: Slightly Stoopid | Long Beach Dub Allstars
Links: MySpace | EasyStar.com | Wikipedia | Facebook | YouTube | Twitter | Last.fm | AllMusic