12 independent record labels with a well imagined roster
Posted by Zechmann in Compilations
May 1st, 2013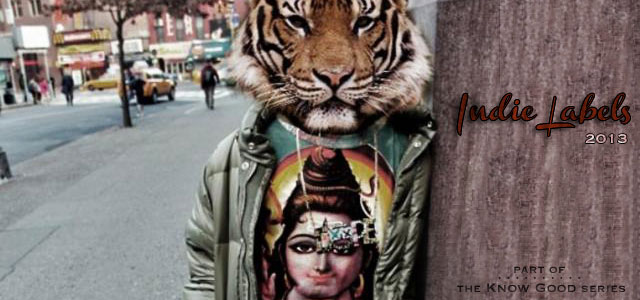 Independent record labels are sprouting up all over the place — in location & style. And the ones that are doing it right not only have a choice selection in catalogue, but also take the time to artfully craft their image as they do their artists.
Each of these 12 labels sport some of the most well respected producers & musicians that belong on this blog and create a culture with style around their music. On here I may point out a few that lack in proper online presence, but they are all doing it right when it comes to the perception of this era's evolution in music labels.
Hit us up with some recommendations for your favorite indie labels

on Twitter or in the comments below
· · · · ·

Future Classic's roster is a delight of disco, dance and ranges all over the pop-soul scale. They're based out of Australia and cover that scene well – it's a hotbed – but they're also global in appeal & catalogue. If I could work for one label, this would be it.
Future Classic
Styles: Disco, Pop & Dance
Location: Sydney, Australia
Associated Artists: Flight Facilities, Flume, Poolside, Jessie Ware, Classixx, The Magician
Future Classic on: FutureClassic.com.au | SoundCloud | Twitter | Facebook
· · · · ·

Alright, whatever I said about Future Classic, same goes with French Express. These two are at the pinnacle of the indie music label game and all I'm gonna say about French Express is Moon Boots. Dude's a label in himself.
French Express
Styles: Disco, Dance & Soul
Location: United States
Associated Artists: Moon Boots, Chris Malinchak, Perseus, Jonas Rathsman, Isaac Tichauer
French Express on: SoundCloud | French-Express.com | Facebook | Twitter | YouTube
· · · · ·

Rhymesayers is a Minneapolis collective best known for its label heads' hip-hop group, Atmosphere. And not only are they one of the best hip-hop labels branding themselves online right now, but one of the best branded indie labels out there. I follow this label's on & offline presence closely and it does both better than most.
Rhymesayers Entertainment
Styles: Hip-Hop, Rap
Location: Minneapolis, Minnesota
Associated Artists: Atmosphere, Brother Ali, Blueprint, Budo
Rhymesayers Entertainment on: Rhymesayers.com | SoundCloud | Twitter | Facebook | YouTube
· · · · ·

God I love this Ghetto Funk family. It's a sound that's clearly their own and it's being appreciated around the world, although not widely enough. Ghetto Funk is bound to be big, both label & style, it just may not be in my lifetime. Future funk, what ya gon' do?
Ghetto Funk
Styles: Funk (Ghetto Funk specifically)
Location: United Kingdom
Artists: Bobby C Sound TV, Funkanomics, The Funk Hunters, Stickybuds, Funk Ferret
· · · · ·
Never Say Never is a rising UK-based label that's all disco-funk'd out. And as much as their roster is everything becoming, I've got one gripe with the label – how they handle their SoundCloud page. I understand they can't leave all their sounds up for free stream, but when they take down a shitload, it really starts making my posts of their music worthless in the long run (for them & us). So, although I can't show off a ton of their talent, here's one of their best their best, Luminaire.
Never Say Never
Styles: Disco, Funk, House
Location: London, United Kingdom
Artists: Luminaire, Definition, Thomas Tonfeld
Never Say Never on: SoundCloud | Facebook | YouTube
Much Love to Never Say Never, I try not to be so negative, but this post brought light to the issue.
· · · · ·

Elm & Oak is apart of the fine music scene up in Boulder, Colorado. I had known of a few artists on E&O before all this mess, but looking at their full catalogue now… wow. Another stacked label with a keen sight for the broad picture in music, the art of it all.
Elm & Oak
Styles: Electronica, EDM, Bass Music
Location: Boulder, Colorado
Associated Artists: Paper Diamond, Minnesota, GRiZ, Sound Remedy, Adventure Club
Elm & Oak on: ElmAndOak.com | Twitter | YouTube
· · · · ·
1320 Records set up shop in San Francisco in 2005 and has grown own helluva lineup since. However, their lack of proper social media presence, especially on SoundCloud, is troubling. But they got so much talent pouring out that some expert motherfucker is bound to come along and help out.
1320 Records
Styles: EDM, Electronica, Bass Music
Location: San Francisco, California
Artists: Archnemesis, Big Gigantic, Emancipator, Mochipet, Project Aspect, Bassnectar, Pretty Lights, STS9
1320 Records on: Facebook | Twitter | SoundCloud | 1320Records.com
· · · · ·

Green Label Sound may be supported by the best & shittiest drink for you known to man, but whatever you think about Mountain Dew, Green Label has one solid roster. These aren't just good acts, but the kings & queens of the alternative scene.
Green Label Sound
Location: New York, New York
Associated Artists: RAC, Classixx, Star Slinger, Theophilus London, Solid Gold, Chromeo
Green Label Sound on: GreenLabelSound.com | Facebook | YouTube | SoundCloud | Twitter
· · · · ·

Unlike most of the electronic labels on here, MalLabel belongs more on the bass & glitch side of things. The label is based out of San Francisco, which is sure a hotbet for this movement. And even though my bassmentality has subsided over the last year, I still gotta strong love for this MalLabel.
MalLabel Music
Styles: Bass, Electronic, Glitch Hop
"Underground Bass Music"
Location: San Francisco, California
Associated Artists: Minnesota, Mochipet, K Theory, Omega
MalLabel on: MalLabelMusic.com | Facebook | SoundCloud | YouTube | Twitter
· · · · ·

Redefinition Records holds some classy hip-hop and is only second to Rhymesayers in my hip-hop label love. They're doing something I don't see many hip-hop labels do nowadays, building a roster around the jazz side of rap.
One thing about the label that needs improvement though is how they handle themselves on social media, specifically Twitter. A few months back I saw Redef get into a shouting match over Twitter when some MC took one of their producer's instrumentals without consent. I understand their frustration and my lack of my knowledge of the situation, but Twitter is no place to bitch about copyright, especially as a legit label like Redef. <3
Redefinition Records
Location: New Jersey; Washington, D.C.
Associated Artists: Damu The Fudgemunk, Raw Poetic, K-Def
Redefinition Records on: RedefinitionRecords.com | SoundCloud | Tumblr | Bandcamp | Facebook | Twitter | YouTube
· · · · ·

Thought I would end this off with two powerhouses on the independent scene. Stones Throw Records has helped quite a few talents get their paid dues. They might not hit every sound right when it comes to what they pick, but they've got the right idea. Definitely a prime example of how to do things as an independent record label.
Stones Throw Records
Location: Los Angeles, California
Founder: Chris Manak (Peanut Butter Wolf)
Associated Artists: Dam-Funk, J Rocc, Aloe Blacc, J Dilla, Madlib, Madvillain, Mayer Hawthorne, Quasimoto
Stones Throw on: StonesThrow.com | Wikipedia | YouTube | SoundCloud | Tumblr | Facebook | Twitter
· · · · ·

This may be the most well known on here and one of the only ones I knew before the days of Silence. Back when I was interning at Universal Music in London, I got a chance to meet one of the artist's managers at Ninja Tune. I had no idea what the label was at the time, but soon as I caught wind that Bonobo was apart of it all, I deeply wished I was interning there. Many years later and I'm still finding up-n-comers signed under the label with so much potential.
Ninja Tune
Founders: Matt Black, Jonathan More [Coldcut]
Location: London, United Kingdom
Associated Artists: Kid Koala, Letherette, Bonobo, Blockhead
Ninja Tune on: NinjaTune.net | SoundCloud | Wikipedia | Facebook | Vimeo | YouTube | Twitter
· · · · ·