A few of these may even beat their originals (don't quote me on this)
Posted by Zechmann in Compilations, Hip-Hop
Aug 9th, 2011
I've compiled 13 Jay-Z mashups & remixes in a two-part series. Part 1 is with instrumentals from way back in the day, mostly classic rock tracks, but a few other surprises in there too. The second part is everything from the 90's till now. It still touches on a lot of rock, but expands into other famous hip-hop tracks and even into the futuristic electronic jams.
As you can imagine, finding Jay-Z mashups wasn't too hard. However, the biggest issue I had in compiling this was the abundance of shit quality remixes. Quite a few would've actually made this list if I could've found a better version, but I hunted down the best and made sure they were up on here! (it was a pain)
Hit us up with your favorites that we missed in the comments below
(maybe I'll feature them in Part 2 // should be out next Monday)
Djs from Mars – Run This Town (Bach // Rihanna // Kanye // Jay-Z Mashup)
What better place to begin this epic Jay-Z mashup mixtape than with a classic // Bach classic. In this mashup by Djs from Mars, Jay-Z's "Run This Town", featuring Rihanna & Kanye, is mixed with some Bach composition [who's got the name // not trained in the classics ;)]… and some bass thrown in.
Audio clip: Adobe Flash Player (version 9 or above) is required to play this audio clip. Download the latest version here. You also need to have JavaScript enabled in your browser.
Cookin Soul – Success (Elvis // Jay-Z Mashup) (feat. Nas)
"I use to give a fuck, now I give a fuck less."
"I use to give a shit, now I don't give a shit more."
Mashups put rappers and singers into expanding genres. It's unfortunate that more artists don't take the hint // expand your tastes. On this remix of "Success", Cookin Soul brings in a little King of Rock to help Hov. Not a fan of Cookin Soul's tags at the beginning & end, although, they aren't as annoying as I've seen before.
Audio clip: Adobe Flash Player (version 9 or above) is required to play this audio clip. Download the latest version here. You also need to have JavaScript enabled in your browser.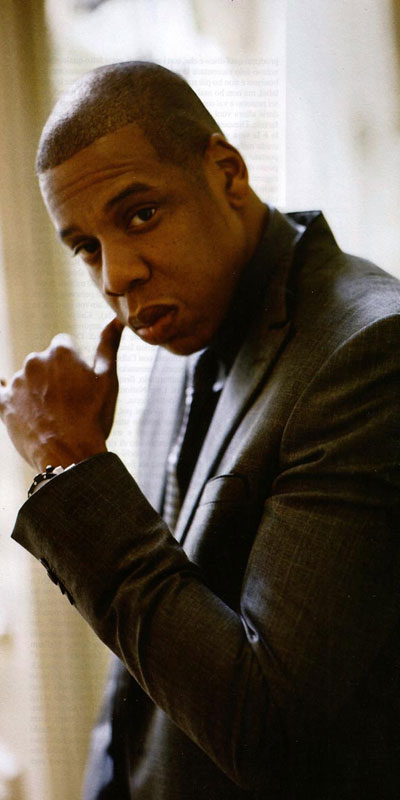 Clinton Rhone – Foxey Lady II (Jimi Hendrix x Jay-Z Mashup)
Every time I hear "Foxey Lady", all I can think of is Garth giving that chipmunk face and those "foxey" ears. But ya can't beat Jay-Z on top of some of the best guitar playin' around.
Audio clip: Adobe Flash Player (version 9 or above) is required to play this audio clip. Download the latest version here. You also need to have JavaScript enabled in your browser.
Danger Mouse – Public Service Announcement (The Beatles // Jay-Z Mashup)
Probably the most acclaimed hip-hop mashup album, Danger Mouse's The Grey Album was one serious piece of freshness. Now, just about anyone is mashing up Jay-Z or The Beatles, but back then people didn't know what hit 'em.
Audio clip: Adobe Flash Player (version 9 or above) is required to play this audio clip. Download the latest version here. You also need to have JavaScript enabled in your browser.
Joneses – Stairway To Subliminal Heaven (Led Zeppelin // Jay-Z // Gramatik Mashup)
The "Stairway to Heaven" instrumental was actually remixed by Gramatik in this. Then Joneses decided to put Jay-Z's "Subliminal Message" over it. Not too shabbay.
Audio clip: Adobe Flash Player (version 9 or above) is required to play this audio clip. Download the latest version here. You also need to have JavaScript enabled in your browser.
Shuko and The Gunna – Hello Brooklyn 2.0 feat. Lil Wayne (Marvin Gaye x Jay-Z Mashup)
Love how this reminds me of the OutKast // George Michael mashup (one of the last tracks), 'cause there ain't nothin better than fine raps over soulful beats.
Audio clip: Adobe Flash Player (version 9 or above) is required to play this audio clip. Download the latest version here. You also need to have JavaScript enabled in your browser.
When we get 50 FB shares//likes, Tweets or +1's, I'll zip this all up for y'all (good quality too)