Whole 'lotta Big Boi, the best De La Soul and some interesting Atmo
Posted by Zechmann in Compilations
May 27th, 2011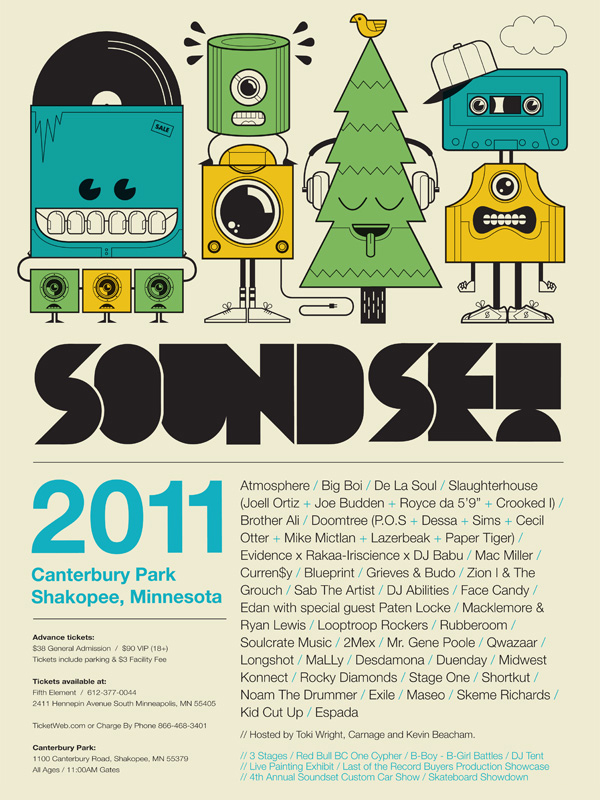 Soundset 2011 is right around the corner, so I thought I'd gather the best remixes & mashups of the lineup. Well, I quickly found out that people don't really mashup underground hip-hop, so I turned to the top three headliners – Atmosphere, Big Boi & De La Soul.
De La Soul had a decent amount, but the good ones weren't easy to find (e.g. Emancipator's mash). Big Boi, as expected, had well over any of the others and wasn't easy to narrow down to seven (yes, it was hard to narrow it to 7!). Lastly, Atmosphere was by far the most difficult to find. I don't know how in hell there aren't more mixes & mashups of Atmo, both Slug & Ant, but I did manage to find two that, although the quality is meh, they're some real interesting combos.
If you know of any other remixes of Soundset '11 acts, make sure to post it up in the comments below. Also, I'll compile it all for download if we get enough people sharin' the love.

DJ De-Pho – Trouble in the Water (De La Soul // Emancipator Blend)
This is the track that sealed the deal. Once I found this I knew I could make up a good re-mixtape for Soundset '11. There's no one better to mix underground hip-hop than with Emancipator… well, except Nujabes.
Audio clip: Adobe Flash Player (version 9 or above) is required to play this audio clip. Download the latest version here. You also need to have JavaScript enabled in your browser.
Illegal Cookin DJ – Paid in Full Tool (De La Soul // Stevie Wonder // Beastie Boys Mashup)
Gotta love what Illegal Cookin DJ did with De La's original, "Ring Ring Ring." With Stevie Wonder's "Sign, Sealed, Delivered," a few cuts from the Beastie Boys and that sax, it's nothin but goodnass.
Audio clip: Adobe Flash Player (version 9 or above) is required to play this audio clip. Download the latest version here. You also need to have JavaScript enabled in your browser.
J. Period – Excursions 2009 (Tribute Remix) (feat. De La Soul)
J. Period teamed up with Q-Tip back in '09 to come out with another "Best of" mixtape. The most notable track was this one, in which De La Soul covers Tribe – impressed already. For more info about the album, head over to HipHopDX.
Audio clip: Adobe Flash Player (version 9 or above) is required to play this audio clip. Download the latest version here. You also need to have JavaScript enabled in your browser.

The White Panda & Wick-It Mashup "Shutterbug"
These two tracks hit big on The Hype Machine, for good reason, but I still can't pick which one's best. You choose!
The White Panda – Shutterbug Swing Tree (Big Boi // Discovery Mashup)
Audio clip: Adobe Flash Player (version 9 or above) is required to play this audio clip. Download the latest version here. You also need to have JavaScript enabled in your browser.
Wick-It the Instigator – Black Bug (Big Boi // The Black Keys Mashup)
Audio clip: Adobe Flash Player (version 9 or above) is required to play this audio clip. Download the latest version here. You also need to have JavaScript enabled in your browser.
DJ Ellipsis & Stenchman Remix "Bombs Over Baghdad"
This time I have a feeling more people are gonna gravitate toward the Deadmau5 mashup…. unless you love your dubstep.
DJ Ellipsis – Ghosts Over Baghdad (Outkast // Deadmau5 Mashup)
Audio clip: Adobe Flash Player (version 9 or above) is required to play this audio clip. Download the latest version here. You also need to have JavaScript enabled in your browser.
Stenchman – Bombs Over Baghdad (Outkast Remix)
(this could really be cut in half)
Audio clip: Adobe Flash Player (version 9 or above) is required to play this audio clip. Download the latest version here. You also need to have JavaScript enabled in your browser.
Skratch Bastid – International Whisperer's Anthem (Outkast, UGK & George Michael Sexy Sax Mix)
These next two tracks I had some hesitation about posting – memorable beats (especially the next one) can be hard as hell for people to feel, they compare it to the original. Can't blame 'em, but if it's mixed right, it's mixed right (feel like an iPhone commericial).
Audio clip: Adobe Flash Player (version 9 or above) is required to play this audio clip. Download the latest version here. You also need to have JavaScript enabled in your browser.
Dave Wrangler – Wheelz of Steel (Outkast // Ratatat Mashup)
The original "Wheelz of Steel" has got one dirty beat, but you can't fight a Ratatat that's mashed like this. Still don't know about that lion RoAr ;)
Audio clip: Adobe Flash Player (version 9 or above) is required to play this audio clip. Download the latest version here. You also need to have JavaScript enabled in your browser.
B.Cause – So Fresh So Clean (Outkast // Marvin Gaye Mashup)
I don't particularly like how B.Cause cut up the beat from "Sexual Healing" and laid it out, but some of the parts hit right on spot. Again, just try not to think of the original – it obviously isn't comparable!
Audio clip: Adobe Flash Player (version 9 or above) is required to play this audio clip. Download the latest version here. You also need to have JavaScript enabled in your browser.

Arby Wan Kenobi – Old Sunshine (Atmosphere // 2Pac Mashup)
You're gonna need to turn this one up. I searched to the net's end for a quality version, but all I could come up was a YouTube rip. Still needs a little polishing, but damn is this laid out nice. It's a perfect tune for this year's Soundset.. once we get a better version.
Audio clip: Adobe Flash Player (version 9 or above) is required to play this audio clip. Download the latest version here. You also need to have JavaScript enabled in your browser.
Rach – Body Movin' Vampires (Beastie Boys // Atmosphere Mashup)
Another YouTube rip with a little better quality than the last. There's also some parts that could use a tweak, but the idea and execution are overall well done.
Audio clip: Adobe Flash Player (version 9 or above) is required to play this audio clip. Download the latest version here. You also need to have JavaScript enabled in your browser.