"Just take some time, elevate."
Posted by Zechmann in Hip-Hop
Oct 5th, 2009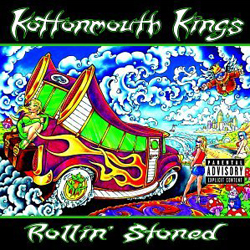 I was introduced to the Kottonmouth Kings from my friends in NorCal. Most of 'em listen to music from the Bay (with good reason), but occasionally expand their scope, e.g. Kottonmouth Kings. The Kottonmouth Kings bring in an interesting mix of hip-hop and punk rock with a heavy influence from mary jane (…why is that become a reoccurring theme on this blog…). They remind me of Swollen Members, and a little bit like Insane Clown Posse, but let's never mention that again. Tangerine Sky is no doubt their most popular song, and from my experience, girls tend to love it (it's rare to find hip-hop that women like, other than the mainstream). It has a memorable reggae style, which is used in a good amount of their music. If you like their style, give Sleepers a listen, also on Rollin' Stoned.
[audio:TangerineSky.mp3|titles=Tangerine Sky]
Download Song!
Artist Information:
Genre: Hip-Hop, Punk Rock
Location: Orange County, California
Group Members:
Dustin "D-Loc" Miller: MC
Brad "Daddy X": Producer, MC
Johnny Richter: MC
Bobby B: DJ, Producer
Label: Suburban Noize
Additional Albums: Royal Highness | Koast II Koast | […]
Similar Artists: Swollen Members
Links: Official Site | MySpace | Wikipedia | Facebook | Last.fm | iLike | Y! Music | AllMusic
Track Information:
Album: Rollin' Stoned
Release Date: October 8, 2002
Buy Links: Amazon | Amazon Mp3 | iTunes