Last month, I did a tribute to 31 great producers I've come across on SoundCloud in a series I dubbed SoundKlout. It was mostly just to pump out a shitload of good music, but I also wanted to engage more with the SoundCloud community and immerse myself in its user experience.
While searching for the 31 SoundKlouters, and about a year's worth before that, I've noticed that most producers sample & remix other works or produce everything electronically. There just isn't enough legitimate collaborations with vocalists & instrumentalists. One reason is the musicians that make up these genres aren't all that involved in SoundCloud's community. Another reason, which may be even more detrimental, is the lack of tools to help these musicians connect, especially across different genres.
So I'm gonna lay out how I can help SoundCloud attract more of these genres through two communities I'm actively involved in, the hip-hop & blogging communities. I'll take care of how they can improve connecting between musicians in the next article.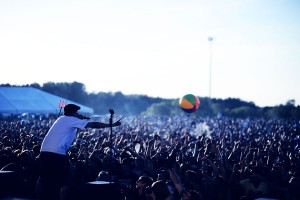 Hip-Hop's Where It's At
Hip-Hop has one of the strongest communities offline, but other than an abundance of dedicated blogs, there's no central, thriving community online. In order for SoundCloud to convince this community to get on board, it'll need to target hip-hop festivals & other live events. That way it can directly talk to the fans and musicians, especially emcees, about how SoundCloud can improve their music experience online.
Emcees should be especially targeted because they have the greatest incentive to join up. They're always in need of a fresh beat and what other place offers such a variety than SoundCloud. Whether it's trip hop, dubstep, ghetto funk or whatever else they're into, the future of hip-hop relies on introducing emcees to emerging styles. If SoundCloud brands themselves as a reliable source for emcees to collaborate with these next level producers, it'll slowly but surely work itself into the hip-hop culture.
Bloggers

SoundCloud
Music blogs cover every genre, everywhere. SoundCloud needs to reach out to these bloggers and convince them to use its dropbox for their music submissions. This will inevitably lead to all kinds of musicians joining up just to get their music heard by these bloggers and quite possibly the rest of the community.
The first step is to show how SoundCloud's dropbox compares to traditional methods, such as email, as well as how convenient it is to store songs for posting on their blog later. Additionally, offering a premium service that enhances their search for new music could get them more involved in the community. This service should include advanced search capabilities for digging through the depths of SoundCloud, categorization & additional search features for favorited tracks and other incentives such as interviews & features on SoundCloud's blog, which will, additionally, help educate the community of musicians on the minds of 'the elusive blogger.'
The benefits from these three communities teaming up go far beyond what I've talked about here, especially SoundCloud + blogs. I plan on digging even deeper in future articles and setting up a line of communication with the SoundCloud Community Team to get them at least talking about these issues & my solutions. For the next article, I'll go into how SoundCloud can help musicians and genres better connect with each other through improvements in 'Groups' and third-party applications.