Who knew the French could Rock?
Posted by Zechmann in Electronic
Jan 3rd, 2010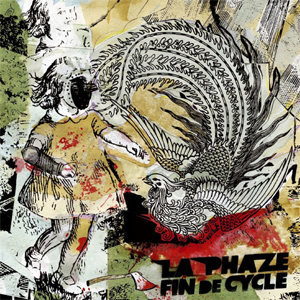 I recently spotted this song (I'm not typing it out) on Pandora, and thought it made for a good feature. The only problem with it is it's length (1:50). It's an intro. for La Phaze's album, Fin de Cycle, so I can undestand why it's so short, but it would have been better if it carried on a little while longer. Most of La Phaze's music seems to be a blend of rap, electro-rock and reggae. I am not the biggest fan of his other works, mostly because I still haven't grown accustom to MC's outside of the U.S. (a little more on this here), but this song (still not typing it out) is their stellar track, combining two elements in two different genres to create something new, yet familiar. These "two elements" I am speaking of are (1) the electric-guitar combined with (2) DJ scratching. Recently, I've had growing interest in the combination of the two… this song, along with a lot of music by Mel Gibson and the Pants (II), being great examples. The guitar in this, for some reason, reminds me of something Johnny Cash would rock out to, being in a large amphitheater to create that echo sound. It's a nice quick little piece that won't take much of your time, so give it a listen and tell me what you think…
Also, if you have any thoughts or info. about La Phrase or Pasderépit@punglist.com (there I said it… or copy/pasted it) please indulge me, I don't know much about these guys 'cause a lot of the references are in French (and Babelfish can only do so much) :-?
Happy New Year and 01.02.2010 (0102-2010)!… even though by the time this is published it'll be a day late :P
[audio:PasdeRepitatPunglistCom.mp3|titles=Pasderépit@punglist.com]
Download Song!
Artist Information:
Genre: Electronica, Drum & Bass, Punk-Rock
Location: France
Formed: 1999
Members:
Arnaud Fournier: Guitar
DJ Mouf: Turntables
Damny (David Baluteau): Keyboards, Vocals, Programming, Bass
Additional Albums: Miracle
Similar Artists: Manu Chao | Percubaba
Links: MySpace | La Phaze.com | Facebook | Last.fm | iLike | Discogs | AllMusic | Y! Music
Track Information:
Album: Fin de Cycle
Release Date: June 1, 2005
Buy Links: Amazon | Amazon Mp3 | iTunes