Glitch galore like you've never seen before!
Posted by Zechmann in Electronic, SoundKlout
Sep 7th, 2011
Our SoundKlout series is all about finding the best artists SoundCloud has to offer. Each day we'll spotlight a handful of good music from a selected SoundClouder. If you know anyone that needs noticing, make sure to hit us up with a few of their tracks.
Of course I found out about Paper Diamond with my utter obsession with all things Pretty Lights. At first I wasn't too impressed with his music, I think I expected the holy ghost to pop out or something, he did just get signed to the best label alive!, but after a few steps in I realized he wasn't just some Pretty Lights clone. He brings something different to the label, a certain madness that music's progressing into (well, some of it).
Paper Diamond – Throw It in the Bag (Keri Hilson + Wiz Khalifa + Paper Diamond Remix)
This was the track that threw me back and sealed the deal. I appreciated Paper Diamond's music before, but this had me at that bass buzzin' beat.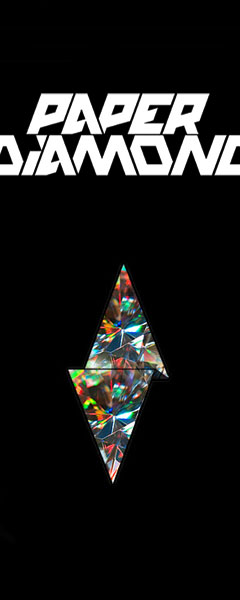 Paper Diamond – From Now Till…
Hottest track off his Levitate EP (available fo free). I noticed there were two versions of it on his SoundCloud page. I compared the two and noticed the earlier one has a Lil' Kim feature around two minutes in. Good decision on getting rid of it, seems a bit drowned out and doesn't add to the song.


* first is the final, second is the first (if that makes sense, haha)
Paper Diamond – Can We Go Up
First single off PD's upcoming EP, Paragon. "Can We Go Up" shows a step in a new direction with a fresh take on Progressive House, a little dubstep bass'd in and still that glitchy love Paper Diamond does best.

First version without the vocals.

Paper Diamond – You're Making Me High (Paper Diamond Electro Remix)
Hell ya!- bring that Toni sexiness back. Appreciate how he cuts her vocals up, I see too many producers cut up vocals poorly (especially in glitch).

Paper Diamond – All Green Lights
The synth melody is what gets me, goes well with PD's glitchy glitchness (it's a nice soothing break)

Paper Diamond – Take Your Time
A big portion of my daily listening is in glitch/dubstep and not enough producers know the importance of the melody. Well played here.

Paper Diamond – Imagine the Possibilities
I think this sums up his style well – that drowned out bass, glitchy synths and wobbles every which way.

Paper Diamond
Genre: Electronica
Styles: Hip-Hop, Breakbeat
Formerly: Alex B
Location Denver, Colorado
Labels: Pretty Lights Music | ELM&OAK Record
Paper Diamond on: SoundCloud | PaperDiamond.com | Facebook | Twitter | MySpace | Last.fm