Checked out the Friday set, wish I saw it all!
Posted by Zechmann in Electronic
Sep 19th, 2010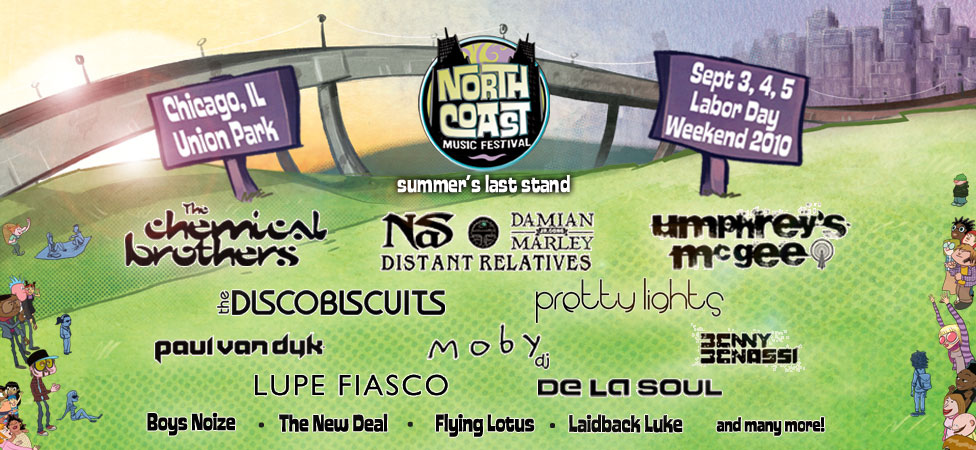 It may've taken me two weeks to get this out (lazy lazy), but here's a look at Friday's set at North Coast Music Fest '10.
Our site just turned one years old on September 3rd, so I thought I'd take a little vaca to Chicago and check out the North Coast Music Fest. I decided to only go Friday because a friend of mine couldn't make it and all I really wanted to see was Pretty Lights.
We got there a little late – I'm not too good with directions – when we ran into will call, which was a fucking long wait. Well, we snuck up to the front and finally got in after about 30 mins.
Pretty Lights was pretty amazing as you can see from the video below – I really suck at shooting video/so does the iPhone.
After that we went over to see the Chemical Brothers. After checking them out for a while, I wasn't too impressed by their show. They had some amazing visuals, but Pretty Lights blew them away in my opinion. After about 20 minutes we decided to go get some food/beer – Magic Hat is DELicious – and check out the other acts.
Before leaving we found a duo that surprisingly outshined the Chemical Brothers – the duo, m. sylvia & DJ Kibo, is part of a collective that calls themselves NorDJs. I've tried to find some of their music online but it is pretty thin from what I found. Nevertheless, I heard a lot of people talking about these two and how well they did against the competition.
The concert was an overall good time. We ran into many complications, most that I didn't talk about, but I got to see Pretty Lights and a few other acts. Next time I hope to go for the full three days, get a press pass, and document the festival a little more thoroughly. It was a good time no matter and I can't wait to go to many many more festivals – maybe Electric Zoo next year :D
[audio:The-Time-Has-Come.mp3,Maybe-Tomorrow.mp3|titles=The Time Has Come,Maybe Tomorrow]
Download: Maybe Tomorrow | The Time Has Come
My Video (shitty):
httpvh://www.youtube.com/watch?v=NhnqCc0yvDA
A Better Video:
httpvh://www.youtube.com/watch?v=8Cj_RiieFy0&feature=related
North Coast Festival Information:
Genre: Electronica, Hip-Hop
Location: Chicago, Illinois
Promoters: React Presents | Silver Wrapper | Cold Grums | Kingtello | Metronome Chicago
Links: NorthCoastFest.com | Facebook | Twitter | Last.fm