He's back and he brought his drums
Posted by in Hip-Hop
Nov 29th, 2011
Okay, first things first, there will never be another Endtroducing. Even if you cloned DJ Shadow and went back in time, the album that has been both his calling card and the proverbial Albatross around his neck still sounds as groundbreaking today as it did 15 years ago.
Every artist worth talking about has their moment, that one perfect moment where their album strikes a chord with the world. Led Zeppelin had Led Zeppelin VI, Michael Jackson had Thriller, and Pink Floyd was one of the few bands that managed to do it twice, with Dark Side of the Moon and later, The Wall.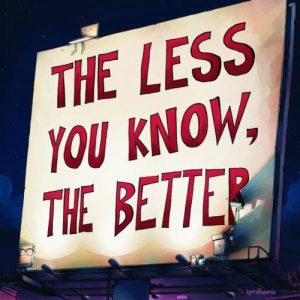 The Less You Know the Better, is DJ Shadow's first album since the alienating piece of work that was The Outsider, and it seems that in the years in between Shadow has basically given up on trying to please anyone but himself, this, in my opinion, isn't a bad thing at all.
Less moody than Endtroducing and The Private Press, and less aggressive than The Outsider, it seems like Shadow decided to construct an album that he enjoyed making and isn't perfect. It's no secret that most DJ's worth their wax are notorious perfectionists, always trying to piece together disparate elements into something new and familiar at the same time.
I'm not going to go through the album on a track by track basis, but I will give you a general gist of what to expect.
Take some rock guitars ala DJ Z Trip, throw in some old soul from the all 45 sets he does with Cut Chemist, mix in some moody elements from Endtroducing and The Private Press and then add in some aggressive beats from The Outsider and you're getting an idea of what you're in store for when putting this album on.
It opens with a sample that feels like both an apology and a promise, "I'm back, I forgot my drums."
This album may lack in some areas, coherence and focus being one of them, but it makes up for that in DJ Shadow's deft drum sampling and risk taking in spades.
The first four tracks on the album give you a pretty decent idea of what to expect for the remainder of the album. There's the DJ aspect of "Back to Front (Circular Logic)", the rock guitars and aggressiveness of "Border Crossing", the hip hop of "Stay the Course" and the acoustic soulful number "I've Been Trying".
The standout tracks on this album, for me at least, don't start until "I've Been Trying", a simple vocal over scattered snares, an acoustic guitar melody and some Pink Floyd style organs. Throw in a flute, a solid bass line and you have a track that if you told your grandparents was put together by a DJ they'd probably download it just to prove you wrong.
"Redeemed" is, for me, the standout track of this entire album, sampling Swedish progrock band Trettioåriga Kriget, it has a subtle and nuanced build musically that I haven't been able to get out of my head since I first heard the album over a month ago.
[audio:https://silencenogood.net/wordpress/wp-content/uploads/2011/11/10-Redeemed.mp3|titles=DJ Shadow-Redeemed]
The album closes with two tracks that, to me, seem like they could have been a couple of tracks that DJ Shadow put together for the pure joy of it. "Def Surrounds Us" opens with a sample that sets up the entire song. It goes from atmospheric to drum and bass and may be the most aggressive track he has ever composed. It could be a polarizing track, with some people constantly skipping it, while others, like myself, find ourselves listening to the track almost on repeat.
"Lets Get It (Bass, Bass, Bass)" is a track that almost feels like it was put together using unused samples from the rest of the album, and is just a noisy, fun, head nodding track that is going to be looked at in the same way as "Def Surrounds Us", people will love it or hate it. It singlehandedly almost meshes the elements of the entire album into one track, it gets moody, it has some guitar noise and a solid hip hop beat to tie it all together.
[audio:https://silencenogood.net/wordpress/wp-content/uploads/2011/11/18-Def-Surrounds-Us.mp3|titles=DJ Shadow-Def Surrounds Us]
More than anything, "The Less You Know the Better" is an album that appears to be made by an artist who is no longer trying to live in past glories or alienate his audience. DJ Shadow took some risks on this album and like all risks, some paid off, others didn't. Check out the tracks below and decide for yourself whether the risks paid off or not.
DJ Shadow
Genre: Hip-Hop, Electronica, Turntablism
Name: Joshua Paul Davis
Born: June 29, 1972
Origin: Davis, California
Instruments: Keyboards, Turntables, Sample, Snythesizer
Albums: Endtroducing… | The Private Press | The Outsider | […]
DJ Shadow on: Wikipedia | Facebook | Twitter | Vimeo | SoundCloud