From Panacea to Forever Famicom and beyond.
Posted by Zechmann in Hip-Hop, SoundKlout
Aug 20th, 2011
Our SoundKlout series is all about finding the best artists SoundCloud has to offer. Each article will spotlight a handful of good music from a selected SoundClouder. If you know anyone that needs noticing, make sure to hit us up with a few of their tracks.

We're also kicking it all off with a possible mixtape (depending on you). Check out the details here and make sure to participate!
I was first introduced to K-Murdock through his stylings with Restoring Poetry in Music (RPM). He's not technically a part of the band, but has contributed to it, as you'll soon see. I've mostly gotten to know his work through Panacea and more recently his collaboration with Mega Ran, entitled Forever Famicom. But now going through his SoundCloud, I'm beginning to realize how much more he has to offer.
I'll admit, I was a Raw Poetic fanatic and didn't want to hear anything K would do without him. It took me long enough to listen to him and Mega Ran, but now hearing everything else, I realize how expansive his sound is. As much as I love his work in Panacea, I began to lose touch with them in their more recent albums. Going through all his other side projects on SC, from his work with rap artists I've admired for years to some absolutely gorgeous female vocals I've never heard, I'm pissed I didn't get to it til now.
Make sure to also check out his work in Panacea, some of his best.
And damnit go check out SoundKlout, I don't ask much of you!
Restoring Poetry in Music – There U R
One of my favorite tracks from RPM, second only to "Sleep Walkers". As much as I love Raw Poetic's flow, daammmn, does Patrick Fritz have a voice.

Jazz Addixx – Bless the Child (Neosonic Remix)
Takin it back with one old school vibe and a neo-soulsonic twist. This
looks mighty appealing right now.

CYNE – New Religion
Damn. I remember hearing CYNE with Nujabes a while back – they've got a flow worthy of either producer.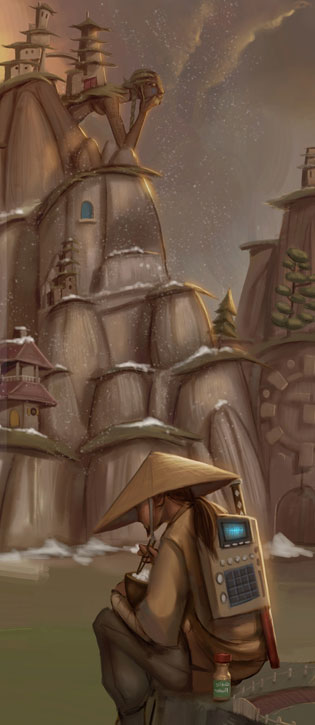 Alona – The Missing (Panacea Remix)
What a voice. When she gets into it, you can really hear the power in her voice.

Braille – The Cure
It's funny to see the artists you admire do projects together. I started listening to Braille & K-Murdock around the same time and never knew K did this joint for Braille.

The Crossrhodes – The Invitation
Such a pro-voc-a-tive track. Love the dude who comes in at around 2/3 in (this player doesn't show the time). Gotta ask K who this is.

Datahowler – Black Swans (Neosonic Remix)
This be one dark trip. He can really pick some topnotch vocalists.

Nicolay & Kay – As The Wheel Turns (Doc Reznor Remix)
Like the mix of vocalists on here.
"K-Murdock, bitches"

The Ebony Bed – Skyscraping
I really need to look into The Ebony Bed some more. How the hell do I describe her voice? Soulful, yes.. powerful, yes.. but there's something else.

Mr. J Medeiros – Holding On (Neosonic Remix)
Another artist I knew from back in the day, Mr. J Medeiros was a part of The Procussions. As much as it's good to hear him again, Tara Ellis steals it. Her voice works well with K-Murdocks style.

Mega Ran & K-Murdock – The Girl with the Make-Up (Perfect Match Remix)
I wish I could've showcased more Mega Ran, but someone decided not to include it on their SoundCloud ;) Oh well, there was just so much else.

K-Murdock
Genre: Hip-Hop
Styles: Progressive, Experimental, Nu Jazz
Location: Washington, D.C.
K-Murdock on: Blogspot | Twitter | Bandcamp | SoundCloud