"Diggin' my music is more than just biz."
Posted by Zechmann in Hip-Hop
Mar 19th, 2010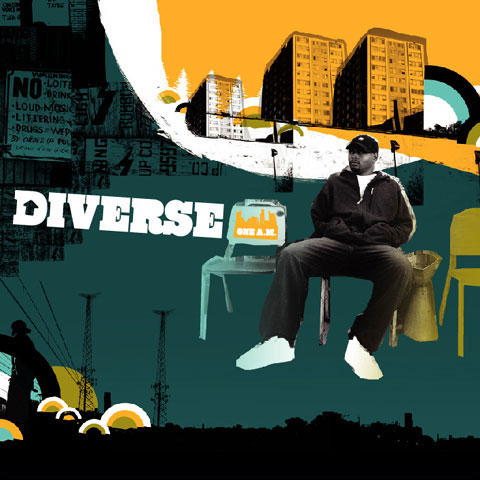 A friend of mine from Chicago told me about Diverse and a few others from Illinois. Been listening to 'em all lately, and although Diverse wasn't my overall favorite, Jus Biz has been one of my favorite singles so far. Diverse just hasn't put enough out yet for me to really grasp his sound. My first thought of him was that he sounded a hell of a lot like RA Scion from Common Market. It may not be as apparent in this song as in others, but their voices are damn near close. Other than that I really like Diverse's rap style, he's got real character. He often collaborates with RJD2, Prefuse 73 & Madlib, so you know his beats are gonna be quality, definitely including this one. Tell me what ya think, and check me out on twitter 'cause I need more followers! :D
[audio:JusBiz.mp3|titles=Jus Biz]
Download Song!
Artist Information:
Genre: Hip-Hop
Birth Name: Kenny Jenkins
Location: Chicago, Illinois
Label: Chocolate Industries
Albums: This is Afro Wax | One A.M. | Diverse
Similar Artists: CYNE | Common Market | Binary Star | CunninLynguists
Links: Wikipedia | MySpace | Last.fm | iLike | Chocolate Industries | Y! Music | AllMusic
Track Information:
Album: One A.M.
Release Date: November 4, 2003
Buy Links: Amazon | Amazon Mp3 | iTunes