To All My Friends, Blood Makes The Blade Holy: The Atmosphere EP's
Posted by Zechmann in Hip-Hop
Sep 1st, 2010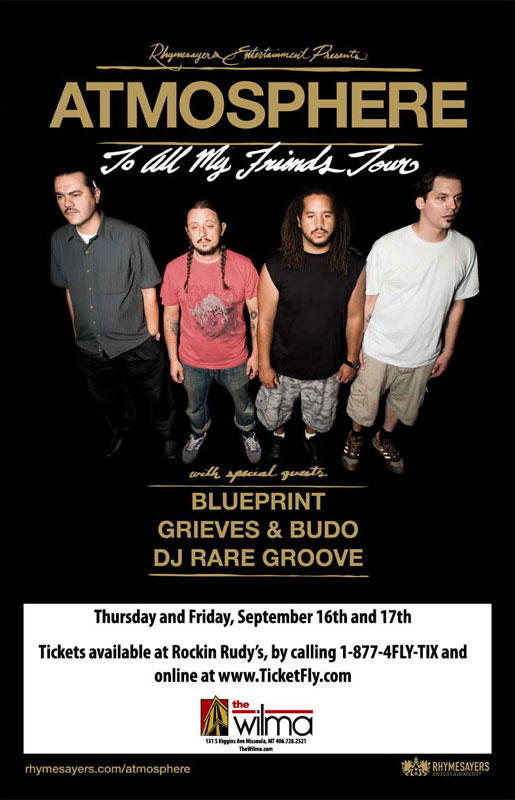 Atmosphere's latest EP, To All My Friends, Blood Makes The Blade Holy: The Atmosphere EP's, is set to release Tuesday, the 4th of September. Just in time for their summer end tour.
Two songs have already been released off the EP, "To All My Friends" about two weeks ago and "Freefallin'" just today. The two have a similar vibe with a laid-back country, summer-daze and a smooth hittin' beat. Slug lays some reflective lines on both, which, if not like always, seems to be a theme for the EP. Like his music, he seems to be maturing with age, bringing on a new style any fan will come to appreciate.
Alright, I'm off to the North Coast festival this weekend. Can't wait to see Pretty Lights live for the first time! Maybe I'll hit up Atmosphere's Madison set on the 8th, the first stop on the tour… I wish.
[audio:Freefallin.mp3|titles=Freefallin']
Get MP3
Atmosphere Info.:
Genre: Hip-Hop
Location: Minneapolis, Minnesota
Members:
Slug (Sean Daley): MC
Ant (Anthony Davis): DJ, Producer
Label: Rhymesayers Entertainment
Albums: Overcast | God Loves Ugly | Seven's Travels | You Can't Imagine How Much Fun We're Having | […]
Similar Artists: Doomtree | Mel Gibson and the Pants | The Dynospectrum | Brother Ali | Felt | Living Legends
Links: MySpace | Wikipedia | YouTube | Facebook | Twitter | Last.fm | AllMusic
Freefallin' Info.:
Release Date: September 7, 2010
Album: To All My Friends, Blood Makes The Blade Holy: The Atmosphere EP's
To All My Friends Tour on Rhymesayers.com
Buy Links: Amazon MP3