Beyonce, SZA, and Kali Uchis were the best, but not the only
Posted by Zechmann in Live
Jun 4th, 2018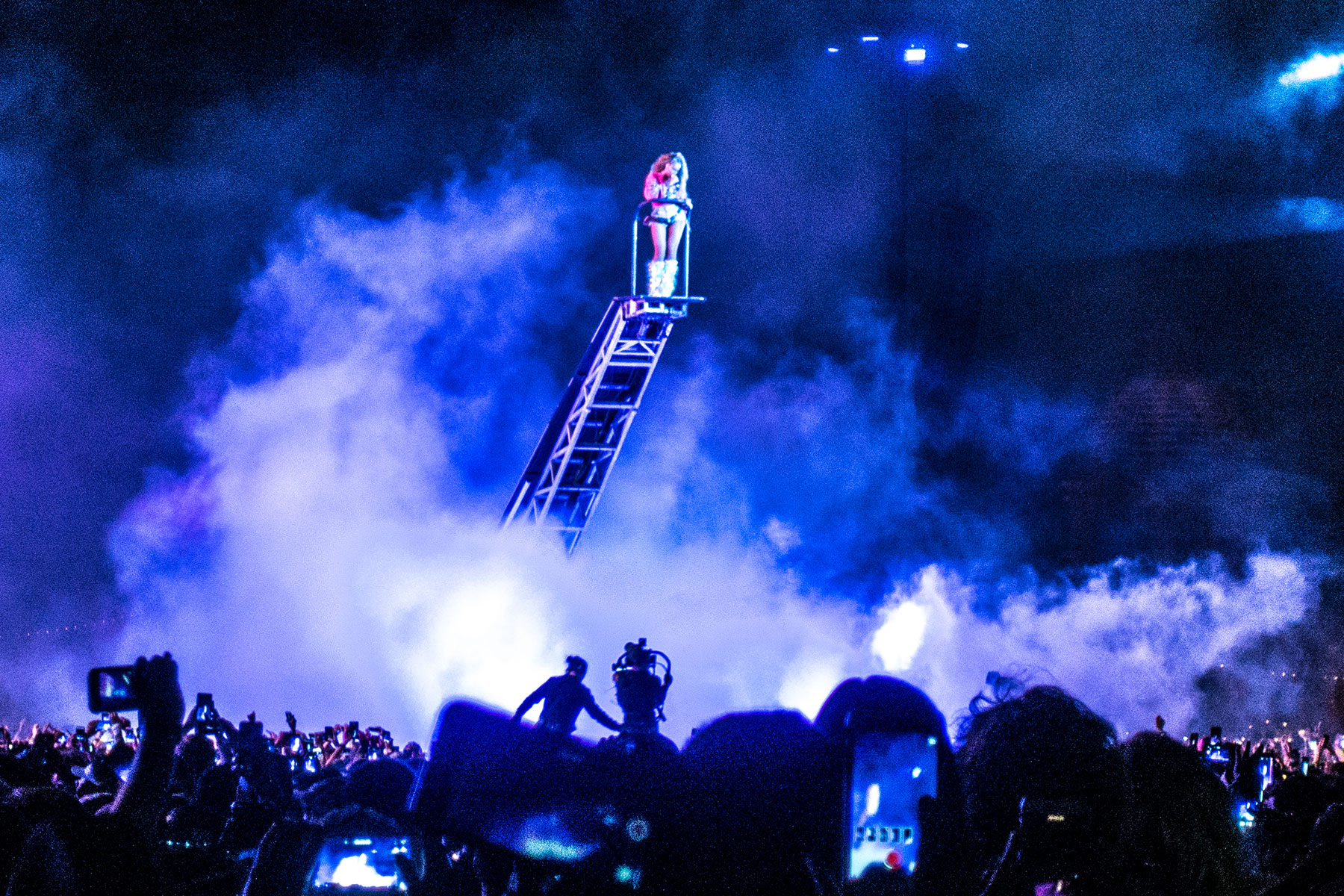 It didn't have Frank Ocean, but Coachella 2018 may have beat out 2017's FYF fest for best festival lineup I've ever been to. Beyonce, SZA, Jacob Banks, THEY., Kali Uchis, Daniel Caesar, Tom Misch, Jorja Smith, ODESZA, Vince Staples, Jessie Ware, Miguel, Kamasi Washington. That's not even half of who I loved, so here's most the rest.
Kali Uchis, my favorite
Let's start with Friday because chronology. It also had my favorite performance at Coachella, Kali Uchis.
I love how Kali works the stage. She's among my favorite performers, including Jacob Banks, Anderson .Paak, Tom Misch, and DUCKWRTH. I've seen Kali at The New Parish and The Fox in Oakland, but she had a lot more competition this time at Coachella.
Most loved Beyonce most, but Kali Uchis had the moment for me. She always does. Every time I've seen her I'm always caught up in her singing and stage presence. She keeps me the whole time. That barely happens ever for me. Too much on my mind.
Beyonce The Best
Obviously Beyonce was the best. Her band put on the greatest brass number I'll ever see. Fronted by Beyonce, her cast of past collaborators and family members, and the fact that she's probably the most powerful performer right now, made it hard for anyone to not be in awe. There was one thing she didn't dive deep into enough.
Beyonce praises our differences and demands the empowerment of underserved people and communities. Being one of the greatest influencers of our time, she needs to go further. How do we get there? What problems do we need to overcome. Mind you, I don't expect her to do this alone, or on stage, but in her words.
Two weeks before Coachella, I went to a 10-day meditation retreat. It showed me the first step is mindfulness. Beyonce sings on Nicki Minaj's track, "feelin myself," which is mindfulness to a T, but I don't think that's what she means.
It did, however, all come together for me when she was singing it at Coachella.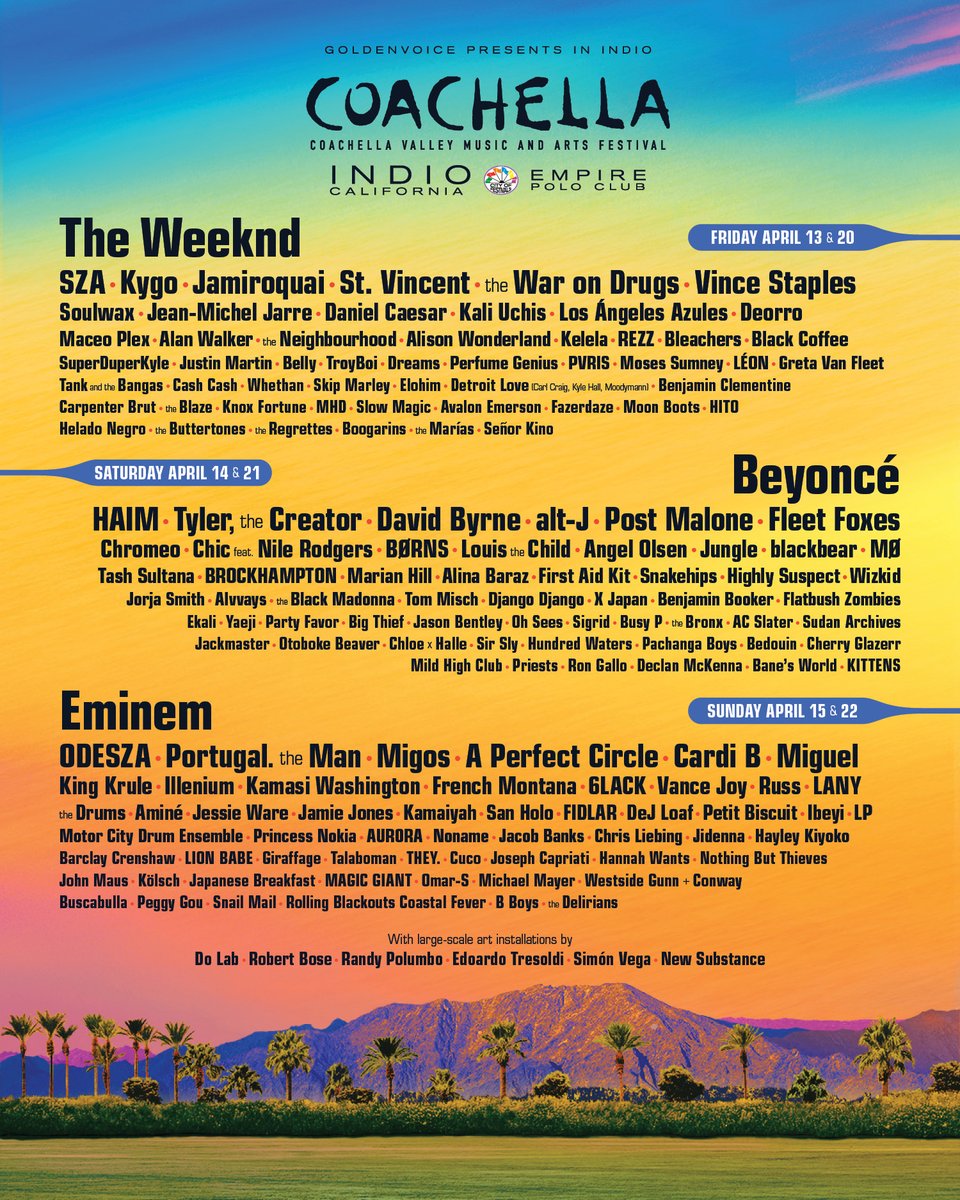 Coachella's Best Lineup Ever tracklist
SZA – Love Galore ft. Travis Scott
Jacob Banks & Louis The Child – Diddy Bop
ODESZA – Across The Room (feat. Leon Bridges)
LION BABE — Jump Hi (feat. Childish Gambino)
THEY. – U-RITE
Vince Staples – Big Fish
Kali Uchis – All Or Nothing
Kali Uchis – After The Storm (feat. Tyler, The Creator & Bootsy Collins)
Daniel Caesar — We Find Love
Jorja Smith – Where Did I Go?
Jessie Ware – Midnight (Acoustic)
Alina Baraz & Galimatias – Pretty Thoughts
Tom Misch – South Of The River
PETIT BISCUIT – Memories
Wild Belle – It's Too Late (Snakehips Remix)
Moon Boots – C.Y.S.
FISHER – YA KIDDING
Migos – Stir Fry
Cardi B – Bartier Cardi (feat. 21 Savage)
Chromeo – Night by Night
The Weeknd – What You Need
Kamasi Washington – Theme from "Color Guard"