Bordeaux doin' disco. What a pleasant surprise.
Posted by Zechmann in Indie, Rock & Pop
Apr 18th, 2013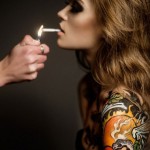 How the hell did I not think this one up? Bordeaux has been making my melancholy music since the last half of 2012 and if you know anything about this blog, you know how much we love disco. And yet somehow I didn't complain that the two haven't gotten together yet – I usually do it so well.
Well, no need to complain now. Bordeaux brings a sombre touch to this flashy, nu disco movement and the only gripe I got with it is that I didn't think to pair up the two first (which I'm sure you're well aware of by now).
Charles Bordeaux
Formerly: REverb Rock
Name: Charlie Walsh
Location: Buffalo, New York
Label: Emerald & Doreen Rec.
REverb Rock on: Bandcamp | Facebook | Tumblr | YouTube | SoundCloud