A Tribute to Anna Kendrick, the sexiest "DJ" of 2012
Posted by Zechmann in Compilations
Jan 10th, 2013
Last year we picked a theme for our Best Mashups of 2011, which we dubbed, "Mashups Not Inspired by Glee," but this year we decided to go with a more positive approach. For 2012, our tribute goes out to Ms. Anna Kendrick. She first caught our eye in Rocket Science and now most recently in Pitch Perfect. And although Pitch Perfect wasn't really all that good, kinda funny, Anna playing an aspiring DJ & mashup artist was probably the hottest thing, and "DJ", of 2012.
Another change to this year's list from last was expanding into remixes & covers. The point of this top 2012 list is to feature the best reinterpretations of memorable hits this year, whether it be mixed, mashed, covered and everything in-between. Whatever it may be, as long as it's not inspired by Glee, it's all good by us.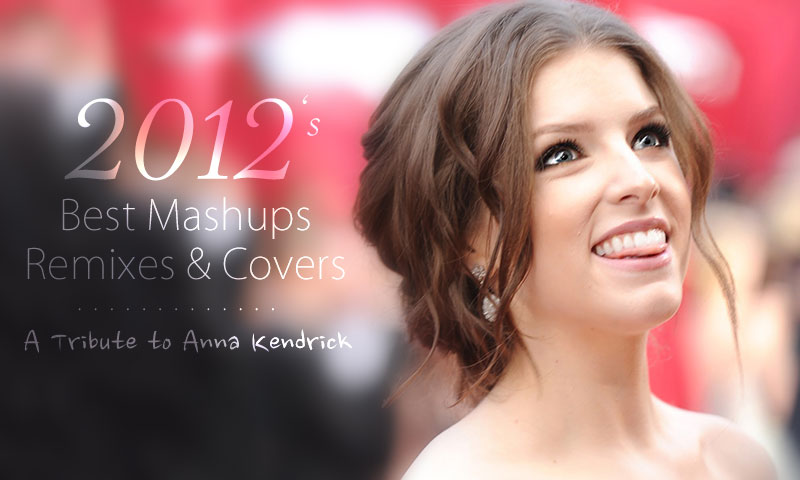 Mashing one of my favorite female artists of the last decade with one of the best beats of the last few years is a task. And especially pulling it off is more than what makes this the #1 mashup of the year. One thing I might've kept out, however, was the original beat's whistling. Otherwise a perfect match.
Biggie with steeldrums? Now that's risky. But take this track to any warm-weathered paradise (or just pretend) and this'll be the jam. Oh and I for one love that this reminds many of Mario Kart, brings me back to the simpler days.
I can't tell you how difficult is to mash such a memorable beat like 'Mixed Up' with just about anything. But somehow Fullhaus pulled it off with precision. Good ear.
This 2012 mashup almost topped Ellie Goulding vs Foster the People, but once again a mashup fell short from perfect because it kept some of the original beat's vocals. It's not that I don't love the vocals on Daft Punk's 'Something About Us,' it just doesn't quite work with Adele. Still, beautiful work.
When you take Little Dragon's 'Ritual Union' and get Electric Guest to cover it, man does it remind me of Prince. And that's just one of the many things I adore about this cover. I guess that's what happens when one of 2012's best covers an even better best (you get it).
You may have never gotten to know Bonobo before, but get to. He was our runner up for best album of 2010 (yea, we use to do albums) and this remix by Letherette is even more blissful than its original.
Like too many downtempo producers, it takes some time to get into the full of it all, but like good ol' dubstep, once it drops all things go good. MJ's voice is simply heavenly and Late Nite Tough Guy knows just how to use it.
I just featured this in our last 2012 best of list (electro remixes), but Ellipsis deserves all this credit and more. There's not many mashers I know of that can take such popular samples and make 'em all his own.
This even offends me (but I like it). Cry Wolf, however, is not at fault. Their cover of David banner's 'Play' is as beautiful as it is raunchy. But if Banner can get away with these lyrics mainstream, Cry Wolf can get away with it here.
This one especially goes out to Ms. Kendrick :p