with a collection of Childish RMX's!
Posted by Zechmann in Hip-Hop
Mar 3rd, 2011
http://vimeo.com/20374589
When I first heard the little Gambino tear up some lines I had mad respect for his lyrics, but wasn't feeling his style. As talented as he is in words, his style of rap could use some work. He can get in flows that drop jaws in awe, but other times I'm just not feeling it. It just reminds me of an offshoot of Hoodie Allen, which I'm not too big a fan of – although, I do understand it's more a matter of opinion.
But fuck all the hatin', I get gitty when I hear anything new from Mr. Glover. He absolutely made Community for me, with the help of Danny Pudi (of course) – and all the rest of the cast. Mystery Team, a movie Glover co-wrote and stars in, is another gem y'all should check out, though it may not be your taste in comedy (but it's mine). I can't wait for what's to come next with Don, not just because of his talent, but his ability to cross into many forms of entertainment.
Check out a few remixes I found on SoundCloud – a twisted taste of his work.
Childish Gambino – Freaks and Geeks (mcDJ Remix)

Who better to remix his work than the Gambino himself.
Dannahan – Finally Got This Money (Mashup)

Not a bad singer.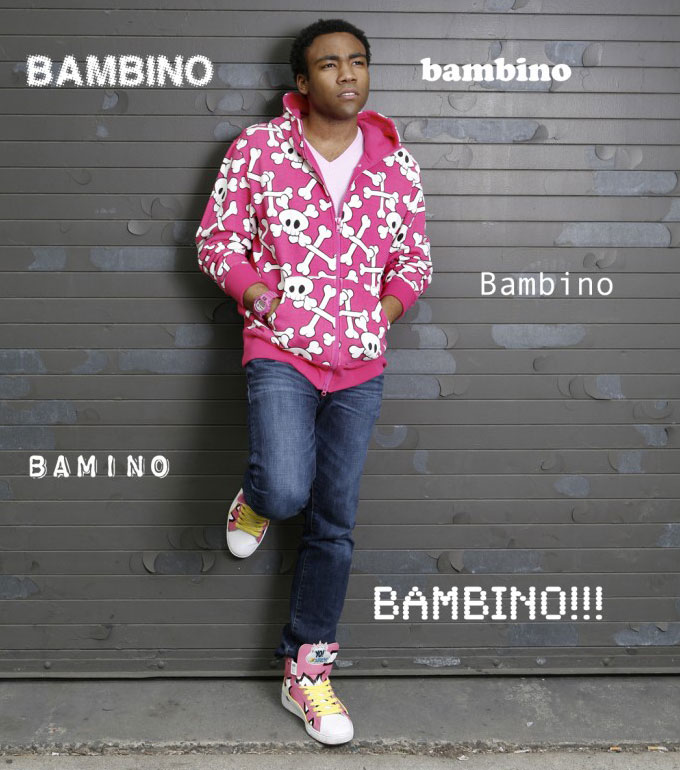 Mitch-Mash – A Dope Flextraterrestrial (Mashup)

So much pop goodness + Gambino
Childish Gambino – Fuck It All (Bear Armz Remix)

Are you really tearing up every industry, Donald? Yes, yes you are.
Childish Gambino – Do Ya Like (Cajita Remix)

Fuck Toby Maguire, this is the real Peter Parker
Donald Glover (Dong Lover): aka Childish Gambino
Birthday: September 25, 1983
Birth Place: Stone Mountain, Georgia
Location: Los Angeles, California
Links: IamDonald.com | Facebook | Twitter | SoundCloud | Wikipedia | IMDB | Vimeo