Gettin dirty with the classics, dubstyle
Posted by Zechmann in Electronic, SoundKlout
Sep 23rd, 2011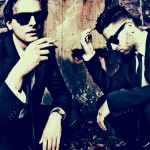 Our SoundKlout series is all about finding the best artists SoundCloud has to offer. Each day we'll spotlight a handful of good music from a selected SoundClouder. If you know anyone that needs noticing, make sure to hit us up with a few of their tracks.
Zeds Dead does dirty on a few classics for us, something my father probably wouldn't appreciated, but can you really blame him? I featured the two a few months back in my Dubstep Remixes of Rock Classics, which they contributed two tracks (both featured below).
I've been posting about these two quite a bit lately, so I decided to go over their SC collection and see what I could dig up. Wish they put up a little more, but still found a few quality dubstep remixes I haven't heard before – though, I'm guessing if you're into this whole scene, you're probably familiar with most their work. To all else, enjoy! (as much as you can)
Zeds Dead – Coffee Break
Zeds Dead has shitton of bassliners, but their recent release of "Coffee Break" takes it for me. It may not have the craziest drops or outlandish dubstep coils, but that buzzin bass with the simplified drops gets my spine a flowin.



The Moody Blues – White Satin (Zeds Dead Remix)
The iconic "Zed Dead, baby" drop may haven't originated with their remix of "White Satin," but this is where I first heard it and locked them in as one killer combo for dubstep drops.

Radiohead – Pyramid Song (Zeds Dead Illuminati Remix)
Of the dirtiest, the "Pyramid Song" is my favorite. Thom Yorke's vocals dirtified go well in this dubWRECKER.

The Rolling Stones – Gimmie Shelter (Zeds Dead Remix)
Some say they butcher classics and I whole heartedly agree – I'm just a glass is half full kind of guy when it comes to dubstep.

Zeds Dead – Rudeboy
For the last month, at the most random time, this Rudeboy hook would get caught in my head. It's one catchy little shit.

Zeds Dead & Omar LinX – Out For Blood
This rap // dubstep combo is future in the making. <3 [soundcloud url="http://api.soundcloud.com/tracks/6312839" params="player_type=tiny&font=Arial&color=292929" height="18" width="55%"]
Sublime – Doin' Time (Zeds Dead Summer Grime Remix)
Dis be mighty dirty. Maybe a little too dirty? Okay, not for you dubstep fuuucks ;)

Zeds Dead – The Twilight Zone
Someone needs to remake the series and include Zeds Dead in the project. The wobBLE bass sells it.

Zeds Dead – 1975
I'm done talking, just listen.

Zeds Dead
Genre: Electronica
Styles: Dubstep, Progressive
Hometown: Toronto, Canada
Members: DC & Hooks
Zeds Dead on: Facebook | Twitter | SoundCloud | Wikipedia