"Are you listening? Are you prepared?"
Posted by Zechmann in Hip-Hop
Oct 16th, 2009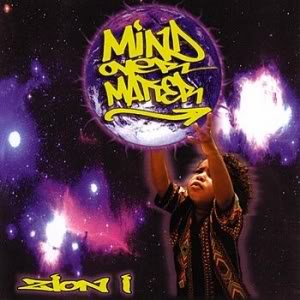 AmpLive is an incredible DJ & producer from the duo Zion I. His futuristic, ambient beats have been sought by such acclaimed rappers Chali 2na & Del tha Funkee Homosapien. He's also produced a remix of Radiohead's "In Rainbows"… without approval from Radiohead :? (oh well, it's damn good). The other half of Zion I, Zumbi, is a cunning, street smart MC with a slight resemblance to Lil' Wayne in vocals (more so in his later works).
"Mind Over Matter" is Zion I's first full-length album out of the dozen or so they've produced throughout their twelve years as a group. It's debatably their best album, though not many would debate it. There are a few notable songs on the album, but One grabbed my attention from the start. On the track, AmpLive immediately brings you in with a smooth drum set while Zumbi spits his deep and sometimes hard to follow lyrics (it's rap, what'd ya expect?). It's a relaxful listen, even with Zumbi's fast-cutting rhymes. It's great to put on a Travel playlist (it's on mine). :)
[audio:One.mp3|titles=One]
Download Song!
Artist Information:
Genre: Hip-Hop
Location: Oakland, CA
Members:
AmpLive: Producer, DJ
Zumbi: MC
Label: Live Up Records
Additional Albums: Heroes in the City of Dope | The Take Over | […]
Similar Artists: The Pharcyde | Living Legends
Links: MySpace | Wikipedia | Zion I Crew | Last.fm | iLike | Y! Music | AllMusic
Track Information:
Album: Mind Over Matter
Release Date: May 30, 2000
Buy Links: Amazon | Amazon Mp3 | iTunes
Note: It was also released as a single in Japan in 2005 with one of the duo's most popular songs Trippin' (also on "Mind Over Matter").