"Jump in the water and get wet; cause 'n' effect."
Posted by Zechmann in Hip-Hop
Feb 12th, 2010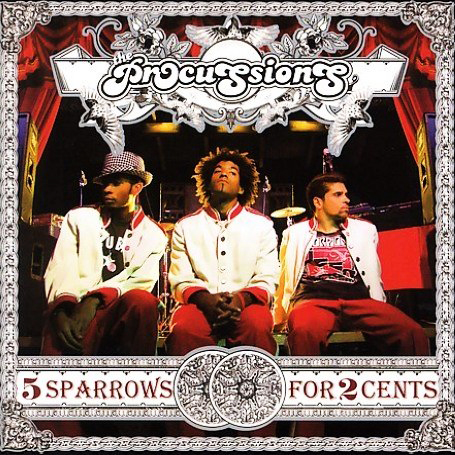 I was researching The Procussions and came across why the group split up two years ago. Mr. J. Medeiros, MC for the group, wrote back in January of '08 on MySpace, "Can't do it anymore y'all. The Procussions have officially been destroyed by the system, the industry, and those kids who just don't understand you 'can't burn independent albums. You will kill their career'". As much as I agree or disagree with Medeiros's statement, the fact is that piracy is here to stay, and artists need to adopt a new business model to adapt to the Digital Age.
A few months back, I went on Del tha Funkee Homosapien's site to check out his latest album. He offered up the digital version for free, but if you donated $30 or more you get "a set of limited edition Del 'Funkman' Skull candy headphones and a conference call with Del himself". Although, I'm not sure how well it's done, I applaud Del's innovative marketing strategy. Damn would that be cool to talk to Del. Hats off to whoever thought of that one! Many other places, including Techdirt & TorrentFreak, point out many other solutions to this "problem of piracy" (to lazy to find the actual articles).
I also wanted to point out one more thing that'll get fans to shell out their cash… produce quality material! A lot of musicians aren't making it simply because they suck. This may sound harsh, but that's what our society was built on. Get good or get the fuck out! The Procussions are actually a good example of this, but not in the way you might think. Even though I'm featuring one of their songs from their album 5 Sparrows for 2 Cents, the rest of the tracks are… well, as AllMusic put it, "while the album is spirited and competent, not much of it is memorable." I've really taken a liking to the featured track, but the rest of it just doesn't work for me. They've had their run, and they should be proud. Now they just need to move on to something else (which they have).
Alright, now that I shot down their album (oops), i'll try and bring it back up (as much as I can). I may not like most of 5 Sparrows for 2 Cents, but I do really enjoy I'll Fly. The song features Tara Ellis's beautiful voice accompanied by the two talented MC's of the group, Mr.J.Medeiros & ReZ. Not only do the two flow in this, but the lyrics are "spirited and competent". It may lose some appeal after a few dozen listens (man, am I really sellin' these guys ;)), but ya gotta expect that from most music (not all, though!).
One other thing, I actually have a question I need y'all to answer for me: I think Medeiros sounds a hell of a lot like Zack de la Rocha from Rage Against the Machine. Obviously with different styles, but their actual voice sounds similar… right? He's the first MC on the mic, in case you're wondering, so at least humor me with a response…
[audio:IllFly.mp3|titles=I'll Fly]
Download Song!
Artist Information:
Location: Colorado Springs, Colorado
Genre: Hip-Hop
Members:
Jason C. Medeiros (Mr.J.Medeiros): MC
ReZ: MC
Stro the 89th Key: DJ, Producer
Label: Rawkus Records
Albums: …As Iron Sharpens Iron | Up All Night | 5 Sparrows for 2 Cents
Similar Artists: MySpace | Jazz Liberatorz | Sound Providers
Links: MySpace | The Procussions | Last.fm | iLike | Y! Music | AllMusic
Track Information:
Album: 5 Sparrows for 2 Cents
Release Date: May 30, 2006
Featuring: Tara Ellis
Buy Links: Amazon | Amazon Mp3 | iTunes