Not far off from the Gorillaz.
Posted by Zechmann in Electronic
Oct 15th, 2009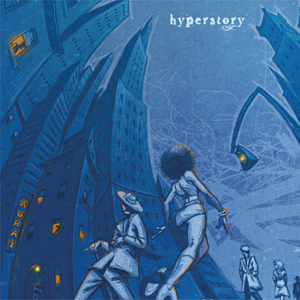 I first caught glimpse of Hyperstory on a Facebook ad about a month back. The headline read something to the effect of "Like the Gorillaz? Check out Hyperstory!" My first thought was "Ha! They are comparing themselves to Gorillaz? Fools!". They only had one song up on their site at the time, A Happening, so I gave it a listen to prove (in my mind) that they were wrong. But, fortunately, I was wrong… my first thought of the song was "this does sound like Gorillaz, and it's not half bad". The group, like Gorillaz, has an alternative rock singer, Scott Blevins (Damon Albarn in Gorillaz), with hip-hop/electronica influenced instrumentals (also similiar to the Gorillaz). I did enjoy A Happening, however, I am skeptical that the rest of the album is up to par with it, as well as establishes a differentiation from the Gorillaz. I haven't checked out their whole album, but you can get a sneak peek of it on AllMusic or Amazon Mp3 before it's released in the beginning of November. I am actually on my way there to check it out… hope there's some quality stuff. :)
[audio:AHappening.mp3|titles=A Happening]
Download Song!
Their official video for A Happening was also just released, check it out below… it has some nice shots of L.A., btw.
httpvh://www.youtube.com/watch?v=Nn39Y4bnFZs
Artist Information:
Genre: Electronica, Alternative Rock
Location: Los Angeles, California
Members:
Scott Blevins
Label: Pureland
Similar Artists: Gorillaz
Links: Hyperstory.com | MySpace | Facebook | Twitter | Last.fm | AllMusic
Track Information:
Album: Hyperstory
Release Date: November 10, 2009
Featuring: Julian Cassia, Deron Johnson, Joey Waronker, Chris Chaney
Buy Links: Amazon | Amazon Mp3