"But nobody knows when it all unfolds."
Posted by Zechmann in Hip-Hop
Apr 8th, 2010

Originally, "If I Could Teach the World" was gonna be my first feature from Bone Thugs, but "Ghetto Cowboy" is what got me into the group, so I had to put that out first. I've been listening to Bone Thugs since middle school, but not by choice – my friends loved 'em, but I did not. Actually, I didn't even start appreciating hip-hop until my late high school/college years, and didn't get into Bone Thugs until I heard Ghetto Cowboy a few years later.
"If I Could Teach the World" is my more recent favorite of Bone Thug's. It may be the only song, wait, the only thing on earth that could make me feel like a thugsta. And if you ask anyone who knows me, they'd probably say that I'm the farthest thing from a thugsta there could be. Just me saying thugsta right now, sounds completely foolish in my head. …But all kidding aside, the song is a passionate, soul-searching piece that everyone should give a listen to, even us not-so-thugstas.
(Download Link in Full Article)
A documentary by Benjamin Franzen & Kembrew McLeod
Posted by Zechmann in Music Talk
Apr 6th, 2010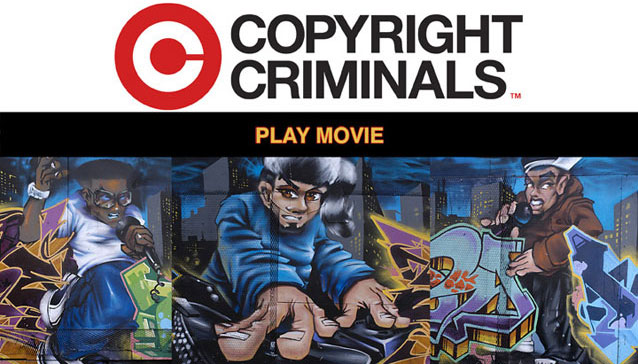 "Copyright Criminals" is an episode from the PBS series, Independent Lens, which premiered January 19th of this year. Independent Lens is a series that "introduces new documentaries and dramas made by independent thinkers: filmmakers who are taking creative risks, calling their own shots and finding untold stories in unexpected places". If you like this feature then check out the rest of the series, it's very well done.
The reason I chose to feature this documentary is because (a.) apparently, I need to post more than just music, or so some of my viewers think; (b.) it informs viewers about the problems and benefits of DJ's sampling music from a fairly neutral perspective; and (c.) simply put, it's a good watch. I've watched a couple of other documentaries about music sampling, and I felt this one was the least bias. It gave fair and equal arguments to both sides of the situation, and presented it in a professional, yet engaging fashion.
There are many DJ/producers featured in this documentary, my favorite being Jeff Chang, author of a book I'm reading right now, Can't Stop Won't Stop, and more importantly, a founding member of the Soulsides record label (which is now Quannum Projects). Others featured include Public Enemy & George Clinton, but the most sincere & touching artist featured was Clyde Stubblefield (drummer for James Brown). Clyde talks about his openness and appreciation for people sampling his music, but only asks for one thing in return, credit! Even over money, Clyde just wants people to recognize that he was the original creator. I mean common, if you're gonna sample someone's music, the least you can do is credit them (among other things, case by case). I think that's fair… don't you Give us your opinions in the comments section. We'd love to hear 'em.
Finally found what I'm looking for(unlike U2).
Posted by Zechmann in Electronic
Apr 2nd, 2010


Just around this time last year I came across a DJ that would change my life forever! Alright, maybe I'm being a little dramatic, but it's true. He was one of the main reasons I started this site. In fact, he was the first feature on it. This DJ I am referring to is none other than DJ Frane. Unlike most artists I've come across, when I started listening to Frane I couldn't stop; each song after another was a rich & robust set of samples ranging from hip-hop to rock. I had heard of trip-hop before, but to me this is what defined the genre. After I was familiar with his music, I wondered when (or if) I would ever come across another DJ as gifted & prolific as him. Well, that day has come… I present to you: Derek Vincent Smith's Pretty Lights…
Scanning over some blogs a friend of mine suggested, I discovered Pretty Lights on a clever & comically titled blog, Aurgasm. I was looking through the site's hip-hop section when I came across this beaut. It was actually the first post of theirs that I listened to the samples they provided, and let's just say I'm glad I did. Pretty Lights currently has three LP's and one EP out, and I have listened to each album… twice! A lot of 'em caught my ear, but only a handful really blew me away, though that number is growing on the daily.
The feature I decided to go with, "Solamente", was actually not my first choice, but I have a reason for saving the best for later (not gonna explain myself, though). "Solamente" is a comforting dreamscape of a song with a nasty bassline. It, along with the rest of Pretty Light's works, are freely available on their website, PrettyLightsMusic.com. Check it out, it's a gorgeous site and there's free music!
One other thing, if you really want to figure out my next posting of Pretty Light's, i'll give you two clues: it's on the same album & features a beautiful, female R&B voice. If you post it in the comments section, i'll give you mad props. Enjoy!
(Download Link in Full Article)