Support your artists!
Posted by Zechmann in Electronic
Oct 6th, 2010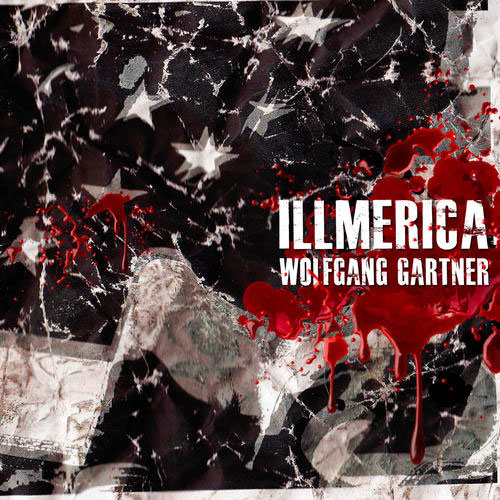 Yesterday I saw Wolfgang Gartner post this status on Facebook and it caught my eye (look below).
We give out mp3's here for free, but we fully support, and try to get others to support, the musicians we promote. Whether it be through purchasing their music online or the many other alternatives, it's important to keep the music alive and the artists thriving. Now to the good stuff…
As for the featured song, it's another bangin' beat. I featured "Wolfgang's 5th Symphony" a couple weeks back and, to be honest, didn't think I'd see much of him for at least a little while more. But "Illmerica" has surprised me with an even better beat to bump to before the bars (or after). Although I keep mistakenly calling it Illmatic, <3 Nas.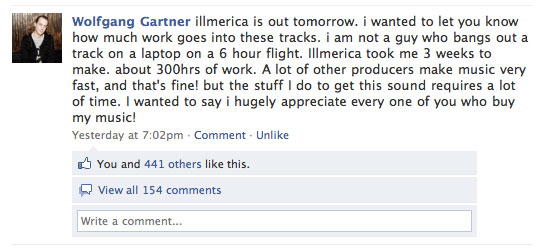 [audio:Illmerica.mp3|titles=Illmerica (Extended Mix)]
Get MP3
Buy/Support: beatport
Illmerica:
Release Date: October 5, 2010
Lyrics: Doot Doot! Voot Voot!
Wolfgang Gartner:
Genre: Electronic
Styles: House
Origin: Austin, Texas
Birth Name: Joey Youngman
Aliases: Bosco & Terell, Count Funkula, Frequent Flyers, Girth, The, Joey Youngman, Mario Fabriani, Spyro Pappadopoulos, White Collar Criminals
Label: Kindergarten
Albums: Killer | Candy | Wolfgang's 5th Symphony/The Grey Agenda | […]
Similar Artists: Deadmau5 | Duck Sauce | Bassnectar | AC Slater
Links: MySpace | Facebook | Twitter | Last.fm | Discogs