A single as mysterious as the artist persona.
Posted by in Indie, Rock & Pop
Sep 18th, 2011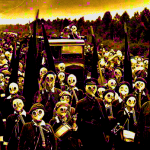 http://www.youtube.com/watch?v=WtcwcZtwaZ0
No Ceremony's "Hurt Love" is utterly addicting.  With melodic vocal samples backed up by a simple piano loop, it's making waves through the blogosphere, as well as my mind.  The simplicity of the song makes it a haunting masterpiece. And the official video only adds to their painstakingly mysterious persona.
No Ceremony – Hurt Love
[audio:https://silencenogood.net/wordpress/wp-content/uploads/2011/09/01-HURTLOVE.mp3|titles=Hurt Love]
After doing a little research I learned just about all there is to learn about the band, which is… well… nothing.  No Ceremony are keeping their identity a mystery if for no other reason than to keep everyone guessing, and let me tell you, it's working.
The single is available for free download on their website.  Also on the website is an open invitation to remix.  Any takers?