Jesse James vs DJ Philistine vs Disco Fries vs Basic Physics
Posted by in Electronic
Dec 21st, 2010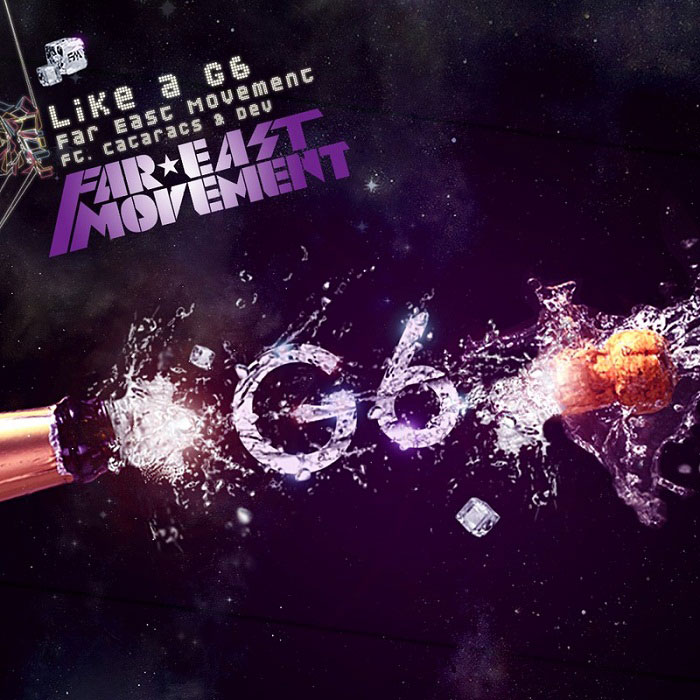 Unless you've been living under a rock for the past few months (and it'd have to be a rock without access to the internet or mainstream radio), you'll have been exposed to Far East Movement's "Like a G6". Love it or hate it, it's topped charts everywhere.
Personally, when I first listened to it (unaware of the hit it was to become), I thought it was catchy enough, but it was relatively uninspiring, and grew old after a few listens. It was banished to my music library wasteland that is "three stars". Well, it's become a hit, and with any huge hit, comes a shitload of remixes. "Like a G6" is no exception – there's a ton of 'em, so there's no excuse not to find at least one to fall in love with. Here's some of my favorites:
Jesse Jamz Remix
Audio clip: Adobe Flash Player (version 9 or above) is required to play this audio clip. Download the latest version here. You also need to have JavaScript enabled in your browser.
It was clear that "Like a G6" was gonna be a club hit. But with even more of a club vibe is Jesse Jamz' remix, with a juicy, juicy bassline that makes you want to get under a strobe and aggressively lose control.
DJ Philistine Remix
Audio clip: Adobe Flash Player (version 9 or above) is required to play this audio clip. Download the latest version here. You also need to have JavaScript enabled in your browser.
Who would've thought that "Like a G6" could have been a sad song? DJ Philistine did, apparently, and I'm glad that they did. I'm a sucker for sparse piano, and I'm even more of a sucker for sparse piano that breaks down into complimentary dubstep.
Disco Fries Remix
Audio clip: Adobe Flash Player (version 9 or above) is required to play this audio clip. Download the latest version here. You also need to have JavaScript enabled in your browser.
Probably the most unchanged from the original, but one of my favorites none the less. Essentially, the bassline is much filthier, distorted and heavy – and actually ascends to climaxes instead of just being there. There's also some nifty synth in the interludes, adding a little bit of eeriness.
Basic Physics Mashup
Audio clip: Adobe Flash Player (version 9 or above) is required to play this audio clip. Download the latest version here. You also need to have JavaScript enabled in your browser.
If there was one thing the original had, it was catchy funky swagga bass. Something DeadMau5's track "Ghosts N Stuff" also had. I guess that's why they fit so well together.
Jesse Jamz:
Genre: Electronica
Styles: House, Grind, Thrash, Techno
Name: Jesse See Tai
Label: Sex Cult
Links: SoundCloud | Facebook | Twitter | YouTube
DJ Philistine:
Genre: Electro
Styles: Dubstep, Lo-Fi, House, Mashup
Origin: Trinity College
Label: Unsigned
Links: SoundCloud | Facebook | Twitter | last.fm
Disco Fries:
Genre: Electro
Styles: House, Disco, Techno
Members: Danny "Danger" Boselovic, Nick "Piklz" Ditri
Origin: Berklee College of Music, Boston
Label: Arkatone Music
Links: SoundCloud | Facebook | Twitter
Basic Physics:
Genre: Electro/Hip-Hop
Members: Alex Syse and Eric Mitchell
Origin: Madison, WI / Minneapolis, MN
Label: Unsigned
Links: SoundCloud | Facebook | Twitter | YouTube | last.fm
Like these? I run another music blog, DJ Silkworm, which has more electronica, remixes and both.